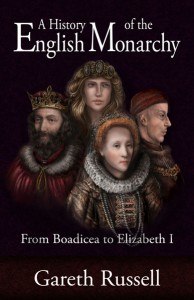 Congratulations to historian Gareth Russell, and regular Tudor Life magazine contributor on the release of his new book A History of the English Monarchy: From Boadicea to Elizabeth I. It's just come out in paperback and will be coming out as a kindle version in the next week or so.
In A History of the English Monarchy, historian Gareth Russell traces the story of the English monarchy and the interactions between popular belief, religious faith and brutal political reality that helped shape the extraordinary journey of one of history's most important institutions.
From the birth of the nation to the dazzling court of Elizabeth I, A History of the English Monarchy charts the fascinating path of the English monarchy from the uprising of 'Warrior Queen' Boadicea in AD60 through each king and queen up to the 'Golden Age' of Elizabeth I. Russell offers a fresh take on a fascinating subject as old as the nation itself. Legends, tales and, above all, hard facts tell an incredible story... a history of the English Monarchy.
Paperback: 322 pages
Publisher: MadeGlobal Publishing (March 24, 2015)
Language: English
ISBN-13: 978-8494372124
Available from Amazon.com, Amazon UK and Amazon international sites. It will also be rolling out to other bookstores in due course.
Gareth Russell read History at Saint Peter's College at the University of Oxford and he then gained his honours in medieval history with a postgraduate at Queen's University, Belfast. His first novel, Popular, set in Belfast, was published in 2011. Since then he has written another novel, which was adapted for the stage, as well as two works of non-fiction (The Emperors: How Europe's Rulers Were Destroyed by the First World War, and An Illustrated Introduction to the Tudors) and several plays. He is currently working on a full-length biography of Queen Catherine Howard. He is a columnist for EILE Magazine, Tudor Life, and author of the blog Confessions of a Ci-Devant.