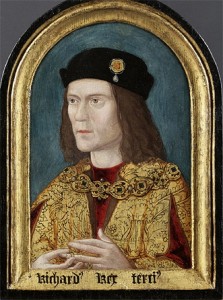 On 7th November 1485, at King Henry VII's first Parliament, the late King Richard III and twenty-eight of his supporters were attainted, i.e. declared guilty of treason by bill of attainder.
Raphael Holinshed records what happened at this Parliament, which was held just over two months after Henry VII's victory and Richard III's death at the Battle of Bosworth:
"For the establishing of all things, as well touching the preseruation of his owne estate, as the commendable administration of iustice and preferrement of the common wealth of his realme, he called his high court of parlement at Westminster the seauenth daie of Nouember, wherein was atteinted Richard late duke of Glocester, calling and naming himselfe by vsurpation, king Richard the third.
Likewise there was atteinted as chéefe aiders and assistants to him in the battell at Bosworth, aduanced against the present king, Iohn late duke of Norfolke, Thomas earle of Surrie, Francis Louell knight vicount Louell, Walter Deuereux knight late lord Ferrers, Iohn lord Zouch, Robert Harrington, Richard Charleton, Richard Ratcliffe, William Berkeleie of Welete, Robert Middleton, Iames Harrington, Robert Brakenberie, Thomas Pilkington, Walter Hopton, William Catesbie, Roger Wake, William Sapcote of the countie of Huntington, Humfrie Stafford, William Clerke of Wenlocke, Geffrie saint Germaine, Richard Watkins herald of armes, Richard Reuell of Derbishire, Thomas Pulter of the countie of Kent, Iohn Welsh otherwise called Hastings, Iohn Kendall late secretarie to the said Richard late duke of Glocester, Iohn Bucke, Andrew Rat, and William Brampton of Burford.
In which atteindor neuerthelesse there were diuerse clauses and prouisos for the benefit of their wiues and other persons, that had or might claime anie right, title, or interest lawfullie vnto anie castels, manours, lordships, townes, towneships, honours, lands, tenements, rents, seruices, fée farmes, annuities, knights fees, aduousons, reuersions, remainders, and other hereditaments; whereof the said persons atteinted were possessed or seized to the vses of such other persons: with a speciall prouiso also, that the said atteindor should not be preiudiciall to Iohn Catesbie knight, Thomas Reuell, and William Ashbie esquiers, in, of, & vpon the manour of Kirkebie vpon Wretheke in the countie of Leicester, nor in, of, and vpon anie other lands and tenements in Kirkebie aforesaid, Melton, Somerbie, Thropseghfield, and Godebie, which they had of the gift & feoffement of Thomas Dauers, & Iohn Lie. And further, notwithstanding this atteindor, diuerse of the said persons afterwards were not onelie by the king pardoned, but also restored to their lands and liuings."
Henry VII had backdated his reign to 21st August 1485, the day before the Battle of Bosworth, thereby making all those who supported Richard III at the battle traitors. You can see a clip from "Henry VII: Winter King" explaining this at http://www.bbc.co.uk/programmes/p019xg7c
Notes and Sources
Raphael Holinshed's Chronicles of England, Scotland, and Ireland, 1587 edition, Volume 6, p. 762. Read online at The Holinshed Project
Further Reading/Viewing