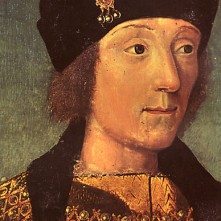 On this day in history, 7th August 1485, Henry Tudor, the future Henry VII, dropped anchor at Mill Bay, near Milford Haven, Wales. When he reached the beach, it is said that he prayed "Judge me, O Lord, and favour my cause."
He had left Harfleur in France, where he had been in exile in Brittany, on 1st August 1485, sailing with a force of French mercenaries and English exiles. His intention was to claim the throne of England from Richard III. After he had landed on the Welsh coast, Henry set about gathering further support and troops as he marched through Wales and the Welsh Marches, aiming for London. Of course, the two kings met in battle before Henry got to London, clashing at the Battle of Bosworth, near Market Bosworth in Leicestershire on 22nd August 1485. Henry was victorious and Richard was killed in battle. Henry became King Henry VII.
You can find out more about Henry VII in the documentary Henry VII: Winter King - click here.