On this day in history, 31st August 1555, Robert Samuel, former minister of East Bergholt Church in Suffolk, was burned at the stake in Ipswich, probably at the Cornhill. He was one of the Ipswich Martyrs, Protestants who were executed in Ipswich during the reign of the Catholic queen, Mary I.
In his Book of Martyrs, John Foxe writes of Samuel:
"This gentleman was minister of Bradford, Suffolk, where he industriously taught the flock committed to his charge, while he was openly permitted to discharge his duty. He was first persecuted by Mr. Foster, of Copdock, near Ipswich, a severe and bigoted persecutor of the followers of Christ, according to the truth in the Gospel. Notwithstanding Mr. Samuel was ejected from his living, he continued to exhort and instruct privately; nor would he obey the order for putting away his wife, whom he had married in king Edward's reign; but kept her at Ipswich, where Foster, by warrant, surprised him by night with her. After being imprisoned in Ipswich jail, he was taken before Dr. Hopton, bishop of Norwich, and Dr. Dunnings, his chancellor, two of the most sanguinary among the bigots of those days. To intimidate the worthy pastor, he was in prison chained to a post in such a manner that the weight of his body was supported by the points of his toes: added to this his allowance of provision was reduced to a quantity so insufficient to sustain nature, that he was almost ready to devour his own flesh. From this dreadful extremity there was even a degree of mercy in ordering him to the fire. Mr. Samuel suffered August 31, 1555."
He goes on to write of Samuel's burning and of a vision or dream he had while he was in prison:
"When Robert Samuel was brought forth to be burned, certain there were that heard him declare what strange things had happened unto him during the time of his imprisonment; to wit, that after he had famished or pined with hunger two or three days together, he then fell into a sleep, as it were one half in a slumber, at which time one clad all in white seemed to stand before him, who ministered comfort unto him by these words:
"Samuel, Samuel, be of good cheer, and take a good heart unto thee: for after this day shalt thou never be either hungry or thirsty."
No less memorable it is, and worthy to be noted, concerning the three ladders which he told to divers he saw in his sleep, set up toward heaven; of the which there was one somewhat longer than the rest, but yet at length they became one, joining (as it were) all three together.
As this godly martyr was going to the fire, there came a certain maid to him, which took him about the neck, and kissed him, who, being marked by them that were present, was sought for the next day after, to be had to prison and burned, as the very party herself informed me: howbeit, as God of His goodness would have it, she escaped their fiery hands, keeping herself secret in the town a good while after.
But as this maid, called Rose Nottingham, was marvellously preserved by the providence of God, so there were other two honest women who did fall into the rage and fury of that time. The one was a brewer's wife, the other was a shoemaker's wife, but both together now espoused to a new husband, Christ.
With these two was this maid aforesaid very familiar and well acquainted, who, on a time giving counsel to the one of them, that she should convey herself away while she had time and space, had this answer at her hand again: "I know well," saith she, "that it is lawful enough to fly away; which remedy you may use, if you list. But my case standeth otherwise. I am tied to a husband, and have besides young children at home; therefore I am minded, for the love of Christ and His truth, to stand to the extremity of the matter."
And so the next day after Samuel suffered, these two godly wives, the one called Anne Potten, the other called Joan Trunchfield, the wife of Michael Trunchfield, shoemaker, of Ipswich, were apprehended, and had both into one prison together. As they were both by sex and nature somewhat tender, so were they at first less able to endure the straitness of the prison; and especially the brewer's wife was cast into marvellous great agonies and troubles of mind thereby. But Christ, beholding the weak infirmity of His servant, did not fail to help her when she was in this necessity; so at the length they both suffered after Samuel, in 1556, February 19. And these, no dobut, were those two ladders, which, being joined with the third, Samuel saw stretched up into heaven. This blessed Samuel, the servant of Christ, suffered the thirty-first of August, 1555.
The report goeth among some that were there present, and saw him burn, that his body in burning did shine in the eyes of them that stood by, as bright and white as new-tried silver."
You can read Foxe's account for yourself at http://www.sacred-texts.com/chr/martyrs/fox116.htm.
A monument to the Ipswich Martyrs was erected in Christchurch Park, Ipswich, in 1903. The inscription on the monument reads:
THIS MONUMENT
IS ERECTED TO THE MEMORY
OF
NINE IPSWICH MARTYRS
WHO FOR THEIR CONSTANCY TO
THE PROTESTANT FAITH
SUFFERED
DEATH BY BURNING'
'WILLIAM PIKES 1558
ALEXANDER GOUGH 1558
ALICE DRIVER 1558
AGNES POTTEN 1556
JOAN TRUNCHFIELD 1556
JOHN TUDSON 1556
N. PEKE 1538
KERBY 1546
ROBERT SAMUEL 1555
You can see several photos of the monument, along with further inscriptions, at http://www.ipswich-lettering.co.uk/martyrs.html.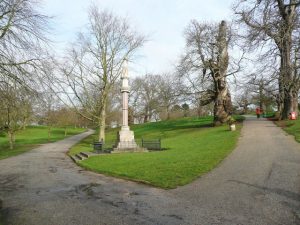 Photo: The Martyrs' Memorial, Christchurch Park, Ipswich. Creative Commons Licence [Some Rights Reserved] © Copyright Humphrey Bolton and licensed for reuse under this Creative Commons Licence. Geograph.org.uk.