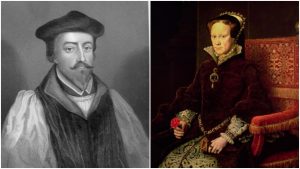 There are two important "on this day in history" events for today and they're both from the reign of Mary I.
On 30th March 1555, Robert Ferrar, Bishop of St David's, was burnt at the stake at Carmarthen. It is not known when Ferrar was born but he came from Midgley, in Halifax, and had found a living at St Oswald's Augustinian priory in Yorkshire by the early 1520s. He studied at Cambridge and Oxford, graduation from Oxford BTh in 1533 and it was while he was at Oxford that he became involved in selling Protestant books, something for which he was imprisoned twice.
He became Bishop of St David's in Wales in 1548, in the reign of Edward VI, thanks to the patronage of Edward Seymour, Duke of Somerset, who had employed Ferrar as his chaplain, and thanks also to the recommendation of his friend William Barlow who was being transferred from St David's to Bath and Wells. His Oxford DNB biographer, Glanmoor Williams, writes of how he was "the first bishop to be appointed by royal letters patent instead of being elected by the canons". He was consecrated on 9th September 1548. He had a wife and three children.
In September 1553, not long after the accession of Queen Mary I, Ferrar was summoned to London and imprisoned. He appeared before Bishop Gardiner on 22nd January 1555 and was then arraigned at Carmarthen on 20th February 1554 regarding his views on the marriage of the clergy and transubstantiation. A further examination took place on 7th March and he was condemned on 13th March 1555. Ferrar died courageously at the stake on 30th March 1555.
Martyrologist John Foxe writes of his burning:
"Thus this godly bishop, being condemned and degraded, was committed to the secular power, who not long after was brought to the place of execution in the town of Caermarthen, where he, in the market place in the south side of the market-cross, the thirtieth day of March, being Saturday next before Passion Sunday, most constantly sustained the torments and passion of the fire.
Touching the which constancy of this blessed martyr, this is moreover to be added and noted, that one named Richard Jones, a knight's son, coming to Master Ferrar a little before his death, seemed to lament the painfulness of the death he had to suffer: unto whom the bishop answered again to this effect, saying, that if he saw him once to stir in the pains of his burning, he should then give no credit to his doctrine. And as he said, so he right. well performed the same; for so patiently he stood that he never moved, but even as he stood, (holding up his stumps,) so still he continued, till one Richard Gravell with a staff dashed him upon the head, and so struck him down."
You can read Foxe's account of Ferrar's examinations and a letter written by Ferrar in Foxe's Acts and Monuments online at http://www.exclassics.com/foxe/foxe278.htm.
Three years later, on 30th March 1558, Queen Mary I made her last will and testament, believing that she would soon give birth and knowing that childbirth was a risky process. Click here to read an article on this.
Notes and Sources
Pictures: Robert Ferrar, from Foxe's Acts and Monuments at at http://www.exclassics.com/foxe/foxe278.htm; Mary I by Antonis Mor.