What a confusing day it must have been for the citizens of London on 30th July 1540! For it was on this day in history, in the reign of King Henry VIII, that both Catholics and men of the reformed faith were executed in London. Crazy times indeed!
Find out more about why Thomas Abell, Edward Powell and Richard Fetherston, and Robert Barnes, William Jerome and Thomas Garrard, were executed in today's talk.
John Foxe relates "The History of Robert Barnes, Thomas Garret, and William Jerome, Divines" in his Actes and Monuments – http://www.exclassics.com/foxe/foxe197.htm.
Here is my photo of Thomas Abell's carving: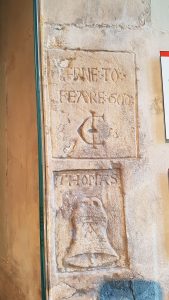 Also on this day in history:
1550 – Death of Thomas Wriothesley, 1st Earl of Southampton, at Lincoln House in Holborn. He was buried in St Andrew's Church, Holborn, but then moved later to Titchfield. Wriothesley served Henry VIII as Lord Privy Seal and Lord Chancellor.
1553 - Princess Elizabeth left her new home, Somerset House, to ride to Wanstead and greet her half-sister, Mary, England's new queen.
1563 – Birth of Robert Parry, writer and diarist, at Tywysog in Denbighshire, North Wales. His works included "Moderatus: the most Delectable and Famous Historie of the Black Knight".
1570 – Burial of Sir William Godolphin, soldier, at Breage.