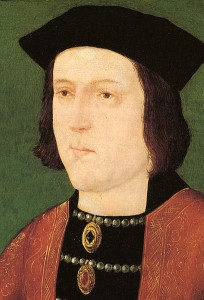 On Sunday 28th June 1461, Edward IV was crowned king at Westminster Abbey. Edward had been declared king after defeating the Lancastrian forces at the Battle of Towton in March 1461. Edward had made his triumphal state entry into London on Friday 26th June, riding from Lambeth to the Tower of London. Michael D. Miller writes:
"At the gates of the City, he was received by the Lord Mayor and the Aldermen, clad in scarlet robes, accompanied by 400 from the Court of Common Council and the most prominent of the citizens. The solemn and gorgeous procession wound it way slowly through the City streets whilst the people cheered the God-like figure of Edward, so very different from the drab and vacant-eyed creature they had previously seen as their King. Edward looked every inch a King, and a King who would give them a lasting peace. In him they saw an end to the troubles which had afflicted the Realm in recent years."1
At the Tower of London, Edward dubbed 32 Knights of the Bath, men who processed before their new king when he made his way to the Abbey to be crowned. The Croyland Chronicle records:
"King Edward, after the festivities of Easter, which he celebrated with great splendour at York, having placed garrisons throughout the whole country in whom he could fully rely, returned, as conqueror, to London. Here he immediately assembled the Parliament, and was crowned at Westminster by the venerable father Thomas, archbishop of Canterbury, and solemnly graced with the diadem of sovereignty."2
As the Chronicle records, Edward was crowned by Thomas Bourchier, Archbishop of Canterbury, and he was assisted by William Booth, Archbishop of York. After the coronation ceremony, there was the traditional banquet where "Sir Thomas Dymoke, the hereditary King's champion, rode into the hall in full armour, flung down his mail gauntlet, and challenged anyone who disputed Edward's right to do battle with him."3
A beautiful manuscript roll measuring nearly 20 feet in length was produced to celebrated Edward IV's coronation and you can see photos of it and find out more about it at http://libwww.library.phila.gov/medievalman/Detail.cfm?imagetoZoom=mca2010001.
Here is an extract from my book Illustrated Kings and Queens of England on Edward IV:
Edward IV was born on 28 April 1442 at Rouen and was the son of Richard, Duke of York, and Cecily Neville, and was descended from Edward III through Edward's second son, Lionel, Duke of Clarence. He became King of England after deposing the Lancastrian king Henry VI twice with the support of his cousin Richard Neville, Earl of Warwick, who was known as "The Kingmaker".
Edward angered the Earl of Warwick by marrying Elizabeth Woodville, widow of Sir John Grey of Groby, in secret in 1464, ruining Warwick's plans for a marriage alliance with France. He alienated Warwick further by advancing members of Elizabeth's family and Warwick turned to Edward's brother, George, Duke of Clarence, for support. In 1469, Warwick and Clarence led an army against Edward and defeated him at the Battle of Edgecote Moor on 26 July. The Queen's father and one of her brothers were captured and executed, and Edward was captured at Olney. Warwick lacked support to rule as king and was forced to release Edward. Warwick and Clarence fled to France where they made an alliance with Margaret of Anjou, wife of Henry VI, agreeing to invade England and restore Henry VI to the throne. Henry was restored as king in October 1470, but Edward was able to gain the support of his brother-in-law Charles, Duke of Burgundy, and returned to England with his brother Richard, Duke of Gloucester, and an army. He was able to win support in England and he marched to London, where he took Henry VI captive. He defeated and killed the Earl of Warwick at the Battle of Barnet and the Lancastrian forces at the Battle of Tewkesbury. Clarence was accused of plotting against Edward in 1477 and was put to death, allegedly by being drowned in a butt of malmsey wine, in 1478.
The last years of his reign were once of peace and prosperity, but Edward died suddenly on 9 April 1483 at Westminster but was able to name his brother, Richard of Gloucester, Protector of England while his son was too young to reign in his own right. He was buried in St George's Chapel, Windsor Castle.
Notes and Sources
Wars of the Roses, Chapter 57: Edward's Coronation, by Michael Miller.
Ingulph's chronicle of the abbey of Croyland with the continuations by Peter of Blois and anonymous writers, p. 426. See https://archive.org/stream/ingulphschronic03petegoog#page/n446/mode/2up.
Illustrated Kings and Queens of England by Claire Ridgway.