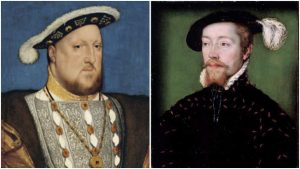 Thank you to Heather R. Darsie, our regular Tudor Society contributor, for today's article. Over to Heather...
Happy Thanksgiving to our American members! Today also marks the 474th anniversary of the Battle of Solway Moss, a border skirmish that took place on the English side of the border with Scotland on 24th November 1542. This was the last of a series of such battles that arose from a falling-out between Henry VIII of England and his nephew, James V of Scotland.
Henry VIII had famously broken from the Roman Catholic Church and became head of the Church of England. Henry VIII had desired for his nephew, James V, to do the same. James V refused. Henry VIII had set up a meeting between the two monarchs at York in 1541, but James V had refused to come. Insulted, Henry VIII sent his army to raid and harry Scottish border towns.
Incensed by his uncle's behaviour, James V retaliated by gathering together upwards of 15,000 to 18,000 Scottish troops to sack or otherwise abuse the English border towns in the English north-west. James V assigned this undertaking to Robert, Lord Maxwell, James V's Warden of West March. A much smaller force of 3,000 Englishmen, led by Sir Thomas Wharton, rose to fight off the Scottish. Sir William Musgrave also served as commander. The Scottish troops under James V faced off against the troops put up by Henry's local commander on 24 November 1542. Astonishingly, the English won the day, with not a little help from the local landscape.
The battle itself took place around the River Esk and the River Lyne, on the English side of the border, in Solway Moss, Cumberland, England. The English force crested a hill, now known as Oakshawhill, at which point the Scots saw them and feared the English were backed by a much larger force. The Scottish were not properly disciplined and so hesitated, leading to their demise. Lord Maxwell had not been formally appointed the commander of the Scottish army, leaving room for James V's favourite, Oliver Sinclair, to declare that he was commander. This caused dissension amongst the Scottish troops and caused the army's structure to come undone. The cavalry of the English army swiftly descended on the Scots, causing most of the Scottish troops to flee or otherwise surrender. The Scots were bound in by a portion of the River Esk and the Moss, and had nowhere to flee. Fighting ensued, resulting in a great loss to the Scottish army. Sadly, many Scotsmen drowned in the River Esk that day. The Scots finally surrendered, handing over their ten or so field guns to the English.
It is estimated that the Scots lost approximately 1,200 men, or roughly 7 to 8 percent of their army, whereas the English lost only seven members of their army, or less than 1 percent. The defeat at Solway Moss was devastating to James V, who died, possibly in part of a broken heart, a couple of weeks later on 14 December 1542. James had been staying in the safety of Lochmaben, but after the defeat, retired to Falkland Palace. He was delirious with fever and is said to have lamented the death of his favourite, Sinclair, and defeat at Solway Moss more than anything. His death left his six-day-old daughter, Mary, as Queen of Scots. James V was only 30 years old when he died.
Heather R. Darsie lives in the United States with her family and three parrots. She works in the legal field, with a focus on children. She obtained a Bachelor of Arts degree in German Languages and Literature, then a Juris Doctorate in American jurisprudence, and studied abroad in Costa Rica and France. Heather has always loved history. She first became acquainted with Elizabeth I when she was in middle school and chose to write a book report about her. Since then, she has always held an interest in the Renaissance and its numerous enigmatic citizens, with particular focus on the history of England and Italy. She is currently working on a book on the heraldry of Tudor women and is also researching Anne of Cleves.
Sources & Suggested Reading