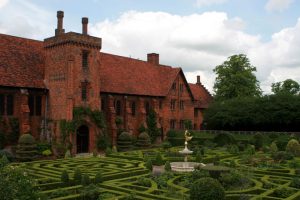 On this day in history, the 18th October 1555, Elizabeth, daughter of Henry VIII and Anne Boleyn, finally received permission from her half-sister, Mary I, to leave court and travel to her own estate at Hatfield, rather than return to house arrest in Woodstock.
Elizabeth, the future Elizabeth I, had been treated with suspicion by Mary and her council since Wyatt's Revolt in early 1554. David Starkey says of the Revolt: "The rebellion of 1554 - known from the leader of its most important sector as Wyatt's Revolt - brought Elizabeth to her nadir. It led to the most dangerous and difficult time of her life when she feared imminent execution or murder. She even expressed a preference as to how she should die: like her mother, by the sword, rather than by the axe."1

Wyatt's Revolt
The aim of the 1554 rebellion, or rather a series of uprisings co-ordinated by men such as Sir Thomas Wyatt the Younger, the Duke of Suffolk (Lady Jane Grey's father), Sir Peter Carew and Sir James Croft, was to block Mary's marriage to Philip of Spain and remove Mary from the throne, replacing her with Elizabeth, who would marry Edward Courtenay. Unfortunately, the rebels were unsuccessful because Mary was tipped off. The uprisings in the Welsh Marches, Midlands and South-West came to nothing and in London, Wyatt was forced to surrender. This challenge to Mary and her government led to the executions of Guildford Dudley, Lady Jane Grey and the Duke of Suffolk in February 1554, and Elizabeth being formally charged with involvement in the rebellion. In his trial on the 15th March 1554, Wyatt had mentioned that he had sent Elizabeth a letter and that she had replied, "but not in writing"2, and this was enough for the Queen and Council to move against Elizabeth.
To the Tower
On the 16th March 1554 Elizabeth was formally charged with involvement in the conspiracies of Carew and Wyatt, and was informed that she was going to be taken to the Tower of London. When the Marquess of Winchester and Earl of Sussex arrived on the 17th to escort her to the Tower, Elizabeth wrote her famous Tide Letter, "the letter of her life"3, in which she reminded her half-sister of her promise not to condemn her without proof and without talking to her, and denied the charges laid against her. As Elizabeth wrote this letter, the tide of the Thames turned and it was impossible to take her to the Tower. Winchester and Suffolk were forced to return the next morning, Palm Sunday, and escort her along the Thames to the Tower. Elizabeth was taken to the royal apartments of the Tower's royal palace, the same apartments in which her mother had spent her last days in May 1536.
Over Easter 1554, Elizabeth was interrogated by members of Mary's Council about her contact with the rebels regarding her removal from Ashridge to Donnington Castle. Sir James Croft, one of the rebels, had actually called in at Ashridge to advise Elizabeth to move to Donnington and Wyatt had also written to her about this. Elizabeth replied that she did remember a conversation between her officers and Croft over her going to Donnington, "but what is that to the purpose, my lords but that I may go to mine houses at all times."4 Elizabeth kept her nerve and her head, even when Wyatt went to the block on the 11th April 1554. Fortunately for Elizabeth, Wyatt did not implicate her any further and, instead, exonerated her in his execution speech:
"And whereas it is said and whistled abroad that I should accuse my lady Elizabeth's grace and my lord Courtenay; it is not so, good people. For I assure you neither they nor any other now in yonder hold or durance was privy of my rising or commotion before I began. As I have declared no less to the queen's council. And this is most true."5
Elizabeth was not put on trial and, instead, was released on the 19th May 1554, the anniversary of her mother's execution.
House Arrest
Although Elizabeth was released from the Tower, she was not a free woman. Her barge took her from the Tower to Richmond, escorted by Sir Henry Bedingfield, Constable of the Tower, and a troop of men. After a night at Richmond, Elizabeth and her guards travelled to Woodstock, in Oxfordshire, stopping at Windsor, West Wycombe and Rycote on the way. On the journey, Elizabeth was overwhelmed by the show of support from the people - she was given gifts of cakes and wafers at High Wycombe, men rang the church bells in Aston Rowant and the people of Wheatley, Stanton St John and Islip all turned out to greet her and show their support.
At Woodstock, Bedingfield was to keep Elizabeth securely under house arrest. She was to be treated well but was not to converse with any suspicious person or be allowed to send or receive any correspondence. As David Starkey points out, Bedingfield's task was a tricky one, seeing as the palace was huge and there were "three doors only that were able to be locked and barred",6 plus the prisoner was waited on by her own devoted servants, who could send and receive messages for her. What I find bizarre about the situation at Woodstock was that Elizabeth, the prisoner, had to pay for the food and drink for not only her servants but for Bedingfield and his men - strange, but true. This caused a headache for Bedingfield because one of Elizabeth's most trusted and loyal servants, Thomas Parry, was in charge of the household accounts, a man that Bedingfield was meant to remove. Removing Parry would have meant Bedingfield doing Parry's job, i.e. taking financial responsibility for the household, so Parry was removed from the palace but only so far as the town, to the Bull Inn, allowing him to continue with his job. The result of this move, as David Starkey points out, was that Elizabeth and Parry "ran rings round him and often barely bothered to disguise the fact."7 Elizabeth's servants often visited Parry at the inn, on the pretext of discussing household business with him, but these visits allowed Parry to keep Elizabeth up to date on what was going on outside of Woodstock and to keep her connected with the outside world.
To Court
On the 17th April 1555, after nearly a year at Woodstock, Elizabeth was summoned to court to attend her pregnant half-sister. Elizabeth arrived at Hampton Court Palace around a week later and was given secure accommodation in the Prince of Wales's Lodging. A few days after her arrival, bells were rung announcing the safe arrival of a prince, but it was a false alarm. In May 1555, Elizabeth asked to see the council and was visited by Stephen Gardiner and a few councillors, in whose presence she refused to submit or acknowledge her guilt. About a week later she was taken to Mary's bedchamber where she was chided for her refusal to submit to her sister and queen. The sisters were able to reconcile and Elizabeth was at Mary's side as she tried to keep up the pretence of her pregnancy and was then deserted by her husband in August 1555 as he travelled to the continent to take up the reigns on the abdication of his father, Charles V. It was a hard time for Mary and Elizabeth couldn't help but pity her older half-sister.
To Hatfield
Finally, after over 18 months of being watched and held securely, Elizabeth was granted permission to leave court for Hatfield, where she could get on with her life. There she could be her own woman and surround herself with people she loved and trusted. Thomas Parry joined her, as did Kat Ashley as soon as she was released from house arrest. We can only imagine Elizabeth's relief and happiness. Since March 1554 she had lived under the shadow of the axe, fearing that she would be executed as a traitor or assassinated, it had been a stressful and frightening time, but now she was free. An etching on a window at Woodstock reads "Much suspected by me, Nothing proved can be. Quod Elizabeth the Prisoner".
Notes and Sources
Elizabeth Files.com
Image:Hatfield House Old Palace, Wikipedia.
Elizabeth, David Starkey, p131
Ibid., p140
Ibid., p141
Ibid., p145
Ibid., p147
Ibid., p. 154
Ibid., p157