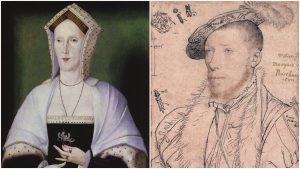 On this day in history, 14th August, two prominent Tudor people were born: Margaret Pole, Countess of Salisbury, in 1473, and William Parr, Marquis of Northampton, in 1513.
Margaret Pole, Countess of Salisbury, born on 14 August 1473, was the only surviving daughter of George, Duke of Clarence, and his wife, Isabel Neville. She was the niece of Edward IV and Richard III, and cousin of Elizabeth of York, Henry VII's consort. Her brother, Edward, Earl of Warwick, was executed by Henry VII in 1499 in response to a request forwarded by the Spanish monarchs during the marital negotiations between Arthur, Prince of Wales, and Katherine of Aragon, since they feared that Warwick's presence would encourage rebellion against the Tudor dynasty.
William Parr, Marquis of Northampton and brother of Queen Catherine Parr, was born on 14th August 1513. He was the son of Sir Thomas Parr of Kendal and his wife, Maud (née Green).
At the age of eleven, Parr joined the household of Henry VIII's illegitimate son, Henry Fitzroy, Duke of Richmond and Somerset, at Sheriff Hutton, and in 1527 he married Lady Anne Bourchier, the ten year-old daughter of Henry Bourchier, Earl of Essex. Parr was knighted in 1538 and created Baron Parr of Kendal in 1539, but failed to secure the title of Earl of Essex when his father-in-law died because Thomas Cromwell took it. Parr's marriage to Anne Bourchier was unhappy, with Anne eloping and giving birth to an illegitimate child in 1543. The couple legally separated, but Parr was unable to marry his new love, Elizabeth Brooke, daughter of Baron Cobham, because he was not granted a divorce.