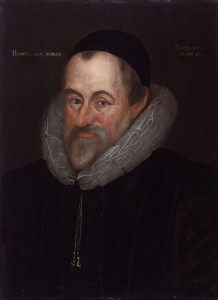 On this day in history, 2nd May 1551, William Camden, the Tudor historian, headmaster and herald, was born at the Old Bailey, London.
Camden is known for his Britannia: or, A chorographical description of Great Britain and Ireland, together with the adjacent islands, the first chorographical survey of Great Britain and Ireland, and his Annales Rerum Gestarum Angliae et Hiberniae Regnate Elizabetha, his history of Elizabeth I's reign, but he also wrote a Greek grammar and Remaines of a Greater Worke, Concerning Britaine, which was a collection of historical essays.
Here are links to William Camden's works so that you can read them for yourself:
Picture: William Camden by Marcus Gheeraerts the Younger, National Portrait Gallery.