The 15th and 16th centuries were bloody times and there were a lot of battles. But how much do you know about the battles of the Wars of the Roses and the Tudor period? Find out by downloading, printing and completing this fun crossword puzzle. Good luck!
Simply click on the link or image below to open the crossword:
Wars of the Roses and Tudor Battles Puzzle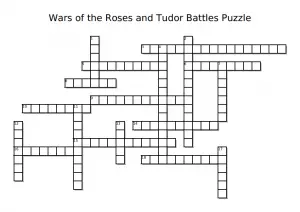 You can find out more about Tudor battles in our Battles and Rebellions section.