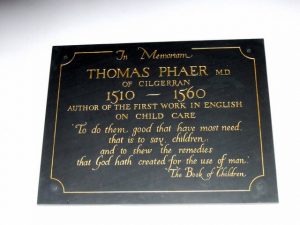 On this day in history, 12th August 1560, the translator, lawyer, physician and paediatrician Thomas Phaer made his will after suffering an accident which made his right hand completely useless. His date of death is unknown, but he died at his Cilgerran estate in Pembrokeshire, Wales, within weeks of his will being drawn up.
Phaer started out his working life as a lawyer and published two legal handbooks, Natura brevium (c1530-1535) and A Newe Book of Presidentes (1543), but changed direction in the early 1540s to become a physician and medical writer. His medical works include The Boke of Chyldren (1545), the first book on paediatrics written in English, A Goodly Bryefe Treatise of the Pestylence and A Declaration of the Veynes. He has become known as the "Father of English Paediatrics".
Phaer was a renowned translator and had completed translations of nine books of Virgil's Aeneid before his death. He was also a writer and contributed verses to Preceptes of Warre (1544) and A Mirror for Magistrates (1578).
Phaer was laid to rest in Cilgerran Church where a memorial table laid in 1986 reads:
Thomas Phaer M.D. Of Cilgerran 1510-1560
Author of the first work in English on child care
'To do them good that have most need,
that is to say children:
and to shew the remedies
that God hath created for the use of man'
The Book of Children.
You can read Phaer's The Book of Children free online at https://archive.org/details/thomasphaerbokeo00boweuoft
Extract from On This Day in Tudor History by Claire Ridgway. Picture: Memorial to Thomas Phaer of Cilgerran, taken by ceridwen, Geograph.org.uk