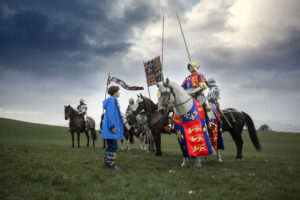 There's a new film about Richard III coming!
The Lost King will be showing in UK cinemas from 7th October 2022.
Thank you to Jo Taylor-Hitchinson for sharing this information:
"The film tells the remarkable true story of how one 'ordinary' woman overcame every obstacle to track down the final resting place of Richard III.
Starring Sally Hawkins & Steve Coogan, the film's release in cinemas coincides with the 10th Anniversary of the discovery of the remains of Richard III, the last English king to die in battle.
In 2012, having been lost for over 500 years, the remains of King Richard III were discovered beneath a carpark in Leicester. The search had been orchestrated by an amateur historian, Philippa Langley, whose unrelenting research had been met with incomprehension by her friends and family and with scepticism by experts and academics.
THE LOST KING is the life-affirming true story of a woman who refused to be ignored and who took on the country's most eminent historians, forcing them to think again about one of the most controversial kings in England's history.
If you're interested in finding out more about the film, head over to @TheLostKingUK on Facebook, Twitter and Instagram and follow it for the latest news.