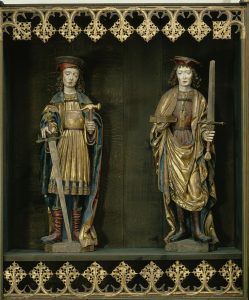 Happy St Crispin and St Crispinian Day!
Yes, the 25th October marks the feast day of Saints Crispin and Crispinian, martyrs of the Early Church. These men were brothers, or perhaps twins, from a noble Roman family. It is said that they travelled to Soissons in France and that on their travels they supported themselves as cobblers while converting people to the Christian faith.
The brother were apprehended, tortured and then millstones were tied around their necks and they were thrown into a river. They survived their ordeal only to be beheaded on 25 October 285 or 286 during the reign of Diocletian.
Following the victory of England over France at the Battle of Agincourt, on their feast day, 25 October 1415, the day also became a celebration of the victory. Celebrations included bonfires, revelry and the crowning of a King Crispin.
St Crispin and St Crispinian are the patron saints of cobblers, saddlers and tanners.
Find out about more feast days celebrated in Tudor times in our special e-book - click here.
Picture: from Wikipedia, St Crispin and St Crispinian's altarpiece, Church of Saint Nicholas, Kalkar