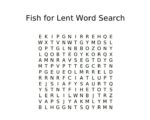 During Lent, the time leading up to Easter, animal products such as meat, eggs, butter and cheese, were forbidden, so more fish was eaten, just as it was eaten on Fridays and other religious days.
But what kinds of fish were enjoyed in medieval and Tudor times, and how did those clever Tudors get round some of the rules and enjoy some meat?
Here's a word search puzzle to test your knowledge of medieval and Tudor "fish".
[Read More...]