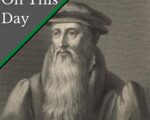 On this day in Tudor history, 24th November 1572, John Knox died at his home in Edinburgh.
The Scottish clergyman, famous Reformer, royal chaplain, and founder of Presbyterianism had a peaceful end, dying as his second wife, Margaret, read aloud from Paul's First Letter to the Corinthians.
John Knox is known for bringing the Protestant reformation to the church in Scotland and for his controversial views about women rulers. Knox was also chaplain to King Edward VI and had a very eventful life, being taken prisoner by the French and being forced into service on the galleys of their fleet at one point.
Find out more about John Knox, his life and career…
[Read More...]