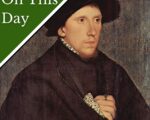 On this day in Tudor history, 22nd March 1546, Edward Seymour, Earl of Hertford, landed in Calais to relieve the out of favour Henry Howard, Earl of Surrey, in his military duties as lieutenant general there.
Hertford had been officially appointed the previous day "as the King's lieutenant in the parts beyond sea, and commander in chief of the army and armada now about to be sent thither; with authority to invade France at discretion, and to order all admirals, vice-admirals and shipmasters there." The privy council also wrote to Surrey recalling him to England.
But what had happened? Why was Surrey being replaced with Hertford?
[Read More...]