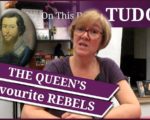 On this day in Tudor history, 8th February 1601, Robert Devereux, 2nd Earl of Essex and Queen Elizabeth I's former favourite, did a rather foolish thing and raised a rebellion against the queen and her council.
Spoilers: It didn't go well and he ended up being executed as a traitor.
Find out exactly what happened in today's talk.
[Read More...]