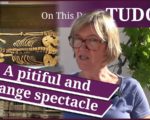 On this day in Tudor history, 4th May 1535, in the reign of King Henry VIII, three Carthusian monks, a Bridgettine monk and a parish priest were executed at Tyburn.
They were executed for refusing to accept the King as the Supreme Head of the Church and "for writing and giving counsel against the King", and had to suffer a full traitor's death, one after the other.
Find out more about them and also London Charterhouse, home to the Carthusian order, in today's talk.
[Read More...]