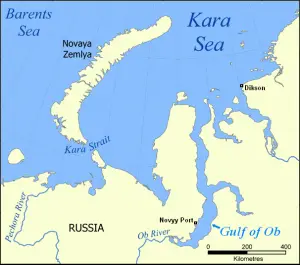 Explorer, navigator and naval administrator Stephen Borough (Burrough) was born at Borough House, Northam Burrows, Northam in Devon, to Walter Borough and his wife Mary Dough on 25th September 1525.
In his childhood, Borough was influenced by his uncle, the seaman John Borough, and probably helped him with his first measured coastal surveys of south Devon and Cornwall in 1538. His uncle taught him navigational skills, sailing skills, Spanish and Portuguese.
In 1553, Borough served as master of the Edward Bonaventure, in a fleet of three ships, on a voyage to look for a northern passage to Cathay and India. Bad weather meant that only Borough's ship got through to St Nicholas (Archangel). Borough undertook a second voyage in 1556 in the Serchthrift and discovered Novaya Zemlya and the Viagatz Strait (Kara Strait), which was named the Burrough Strait until the late 1800s.
In 1558, Borough travelled to Seville, in Spain, to trade his knowledge of the Arctic for navigational training from Spanish pilots. On his return to England, Borough had Martin Cortés' manual Breve compendio del arte de navegar translated by Richard Eden and published for use by English seamen as The Art of Navigation.
In the early 1560s, Borough traded in the Arctic as chief pilot of the Swallow, but in 1564 became one of four keepers of Elizabeth I's ships on the Medway and settled at Chatham. He was made Master of Trinity House in 1572 and died in Chatham in 1584.
Borough's younger brother William was also an explorer and naval administrator. He was appointed Comptroller of the Navy in 1580. In 1581, he published A Discourse on the Variation of the Compasse.
Stephen Borough also had a son Christopher who was a merchant, adventurer, navigator, translator and chronicler. Aduertisements and reports of the 6th voyage into the parts of Persia and Media for the Company of Merchants for the discouerie of new trades, in the yeares 1579, 80, and 81, gathered out of sundrie letters written by Christopher Burrough, servant to the saide companie, and sent to his uncle, Master William Burrough was his account of his voyage to Persia.
(Some of this article is taken from On This Day in Tudor History by Claire Ridgway.