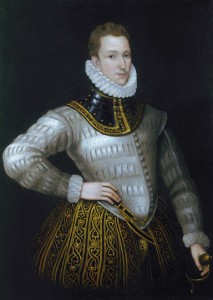 On this day in history, 17th October 1586, Sir Philip Sidney, the famous Elizabethan poet, courtier and soldier, died as a result of an injury sustained at the Battle of Zutphen in the Netherlands. He was just thirty-one years old. His body was returned to England and laid to rest on the 16th February 1587 in St Paul's Cathedral.
Sidney is known for his works "Astrophel and Stella", "The Arcadia" and "A Defense of Poetry".
You can read more about his life and find a list of links to his works and biographies of him on our Philip Sidney page.