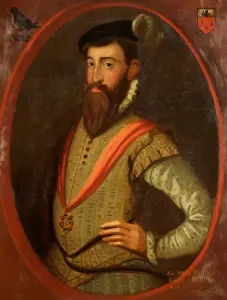 On this day in 1592, Sir John Perrot, Privy Councillor and former Lord Deputy of Ireland, died at the Tower of London. He was buried in the Chapel of St Peter ad Vincula at the Tower.
John Perrot was born between 1527 and 1530 in Pembrokeshire, and was the son of Mary (Berkeley) and Sir Thomas Perrot, although some believe him to have been Henry VIII's illegitimate son. John's mother, the pretty Mary Berkeley, had served Henry VIII's first wife, Catherine of Aragon. The King was a friend of her husband, Sir Thomas Perrot, a keen huntsman, and historian Philippa Jones believes that Henry VIII began an affair with Mary after noticing her when he came to visit and hunt.
John later became friends with Henry VIII's legitimate son, Edward VI, and was made a Knight of the Bath at his coronation. In Mary I's reign, although John was a Protestant and was reported for hiding heretics in his house, he managed to escape serious punishment and was just imprisoned for a short time. At Elizabeth I's coronation in 1559, he was one of the men chosen to bear her canopy of state, and in 1562 was made Vice-Admiral of the South Wales coast and Keeper of the Jail at Haverfordwest. In 1570 he became Mayor of Haverfordwest, and in 1571 was involved in suppressing a rebellion in Ireland, ordering the hanging of around 800 rebels. He was rewarded for his work in Ireland by Elizabeth, who gave him Carew Castle in Milford Haven and land.
Sir John Perrot later joined the Council in the Marches of Wales, working hard to stop piracy along the Welsh coast. In 1584, after his "Discourse" of 1581, giving the Queen advice on the governing of Ireland, he was appointed Lord Deputy of Ireland and spent four years there, although it was a troubled time and Perrot was stuck between a rock and a hard place, trying to reward the English and keep the Irish people happy. All the while, his enemies at the English Court were ganging up on him.
In July 1588, Perrot returned to England where he faced many questions about the situation in Ireland, and accusations that he had made decisions against orders. He was able to rebut these charges and was made a member of the Queen's Privy Chamber in 1589. However, trouble seemed to follow him, and in 1590, new accusations of treason were made against him. Perrot was accused of offering to help Philip of Spain conquer England and Ireland in return for Perrot being given Wales. The letters produced by Sir Dennis O'Rowghan were forgeries, and O'Rowghan was condemned for counterfeiting Perrot's writing and signature. Although O'Rowghan had been dealt with, Perrot's enemies kept up the pressure, and he was accused of speaking rudely of the Council, King James VI and Elizabeth I. Perrot was arrested, kept under house arrest at Lord Burghley's house and then sent to the Tower of London. Just over a year later, in April 1592, he was tried for treason, found guilty and returned to the Tower. As he was led to his prison, it is said that he exclaimed "God's death! Will the Queen suffer her brother to be offered up a sacrifice to the envy of his frisking adversary". Perrot was later sentenced to death, but he died in the Tower of London in September 1592 from illness. He died a destitute, convicted traitor, but the Queen did allow his estate, which had been seized by the Crown, to pass on to his eldest son, Thomas.
You can find out more about Perrot and the theory that he was the illegitimate son of Henry VIII in my Claire Chats video on him - click here.
Notes and Sources
Picture: Sir John Perrot by George Powle.
This article is an extract from my book On This Day in Tudor History.