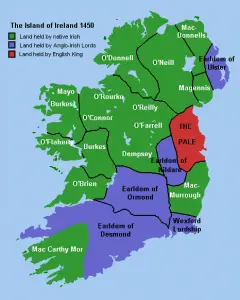 Born in about 1530, Shane O'Neill (Seán Mac Cuinn Ó Néill) was the youngest son of Conn Bacach O'Neill, Earl of Tyrone. His father was forced to recognise Henry VIII as his overlord and monarch, acknowledging his laws and supremacy and agreeing to renounce the Pope. Conn petitioned the king for the earldom of Ulster, but was offered instead the earldom of Tyrone, which he accepted. He later travelled to England to formally submit to Henry in person. Conn's eldest son Mathew was created Baron of Dungannon at this time and had the right to succeed his father as Earl of Tyrone. Shane, as an adolescent, was excluded from the negotiations leading to the settlement.
In July 1559, Shane was elected O'Neill following his father's death, although the election did not supersede the vacant English title. As a result, he sought recognition from the English crown as his father's legitimate successor to the earldom of Tyrone. Desirous of avoiding conflict, Elizabeth I authorised the Earl of Sussex, the lord deputy of Ireland, to recognise Shane as Earl of Tyrone. However, the resulting negotiations failed due to the distrust between Shane and Sussex, alongside Shane's refusal to permit English arbiters to settle his disputes with lesser chiefs in Ulster. The queen eventually declined to offer Shane the earldom after having been convinced by Sussex of Shane's unsuitability for it. Pursuing a more aggressive policy in Ireland, Elizabeth ordered Sussex to offer rewards to Shane's neighbours if they joined with Sussex in reforming him, especially during a time of raids by Shane on the pale's northern marches. Leading an English army, Sussex attempted to pursue war against Shane, but he was forced to rely on a confederation of Ulster chiefs, including Calvagh O'Donnell, in an attempt to defeat the unruly would-be earl. This plan failed when Shane captured O'Donnell and his wife in May 1561, allowing him to extend his influence into Tyrconnell. Sussex became increasingly convinced that Shane's subjugation was needed to maintain English rule in Ireland. The lord deputy even authorised Shane's assassination. In an attempt to resolve the conflict, Elizabeth encouraged the Earl of Kildare to treat with Shane, and a settlement was eventually brokered. A journey to court was arranged, in which Shane would be pardoned by the queen as well as being assured of safe conduct. Shane formally submitted to Elizabeth on 6 January 1562. According to William Camden, Shane and his followers appeared at court bareheaded¬¬, with 'ash-coloured hanging curls, golden saffron undershirts, if not the colour of infected human urine, loose sleeves, short tunics, and shaggy lace: the English nobility followed with as much wonderment as if they had come from China or America.'
Maintaining that his half-brother was illegitimate, and thus not truly an O'Neill, Shane sought renegotiation of the settlement that had been brokered in 1542. He stipulated that he was himself legitimate and was the leader of the O'Neills. Sussex contended that only Elizabeth had the right to revoke the terms of the previous settlement and noted that Dungannon was Tyrone's accepted heir. Elizabeth and her advisers attempted to achieve an acceptable settlement, but the queen eventually decided that she could not judge on the matter of the earldom until Dungannon was interviewed. That, however, never happened because Dungannon was murdered on 12 April 1562 by his cousin Turlough Luineach O'Neill. After his return to Ireland, Shane reasserted his authority in Tyrone and commenced raids on the pale, as well as attacking the English garrison at Armagh. Meanwhile, Sussex continued to seek Shane's submission and led an unsuccessful campaign against him in the spring of 1563. Elizabeth attempted once more to achieve conciliation with Shane.
In September, Shane met with Kildare and Cusack and negotiated a treaty granting him most of the demands that he had made at the English court, as well as nullifying the indenture that he had signed in April. The treaty acknowledged that he had 'all the pre-eminence, jurisdiction, and dominions which his predecessors had, and particularly over the Lords subject to him', thus recognising the right of O'Neill over Ulster and effectively establishing Shane as an independent entity in Ulster. Elizabeth modified the treaty by requesting Shane to attend her governor and insisted that differences between him and her government should be subject to arbitration. She also promised to call a parliament to ratify the treaty and assure his possession of the earldom, although her failure to do so meant that Shane assembled a large force and engaged in a series of military routs that culminated in the defeat of a newly formed Scottish contingent in the valley of Glenshesk. The English garrisons at Newry and Dundrum in County Down were attacked that summer, and northern Connaught was later invaded. Donnelly arrived in England to report the news of Shane's victory over the Scots while continuing to press his claims to the earldom of Tyrone. Shane wrote to the government setting out his demands and proposals; it was also rumoured that he was in correspondence with Mary, Queen of Scots. His military aggression, however, alienated the English government, eventually abandoning its conciliatory approach and instead seeking his destruction.
In early 1566, Lord Deputy Sidney arrived in Ireland. In August, Shane was proclaimed a traitor, but he responded by making preparations for war. He positioned himself as the defender of Catholicism and unsuccessfully appealed to the French king for 5000 French troops to support him in his enterprise. Sidney's army arrived in Tyrone unopposed and established a garrison at Derry, while restoring O'Donnell. Later, when Shane arrived in Tyrconnell, the O'Donnells sought to repel his invasion force. The defeat at Farsetmore led many of his allies to abandon him, leading him to seek an agreement with the MacDonalds. These negotiations were unsuccessful and on 2 June 1567, Shane was seized and killed by the Scots. He was buried at Glenarm, although his head was stuck on a pole at Dublin Castle. Shane was posthumously attainted, and his lands declared forfeit; the title of O'Neill was extinguished in 1569.
Written by Conor Byrne, author of Katherine Howard: A New History and Queenship in England: 1308–1485 Gender and Power in the Late Middle Ages. Conor is a British graduate with a degree in History from the University of Exeter. Conor has been fascinated by the Tudors, medieval and early modern history from the age of eleven, particularly the lives of European kings and queens. His research into Katherine Howard, fifth consort of Henry VIII of England, began in 2011-12, and his first extended essay on her, related to the subject of her downfall in 1541-2, was written for an Oxford University competition. Since then Conor has embarked on a full-length study of queen Katharine's career, encompassing original research and drawing on extended reading into sixteenth-century gender, sexuality and honour. Some of the conclusions reached are controversial and likely to spark considerable debate, but Conor hopes for a thorough reassessment of Katherine Howard's life. Conor runs a historical blog which explores a diverse range of historical topics and issues. He is also interested in modern European, Russian, and African history, and, more broadly, researches the lives of medieval queens, including current research into the defamed 'she-wolf' bride of Edward II, Isabella of France.
Conor is currently studying for a Masters.
Image: Ireland in 1450 showing lands held by native Irish (green), the Anglo-Irish (blue) and the English king (red). (Wikipedia)