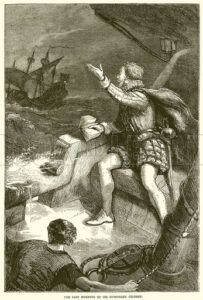 On this day in Tudor history, 9th September 1583, in the reign of Queen Elizabeth I, explorer, soldier and Member of Parliament Sir Humphrey Gilbert died on board the Squirrel after a storm off the Azores.
As the Squirrel sank, the crew of the Golden Hind heard Gilbert shout, "We are as near to heaven, by sea as by land".
Here are some facts about Sir Humphrey Gilbert:
Sir Humphrey Gilbert was born in 1537 and was the second son of Otho Gilbert of Compton, Devon, and his wife, Katherine Champernowne, daughter of Sir Philip Champernowne of Modbury in Devon.
Gilbert was the half-brother of Sir Walter Ralegh as following his father's death, Gilbert's mother married Walter Ralegh of Hayes Barton in Devon and gave birth to explorer Sir Walter Ralegh in 1554.
Gilbert was educated at Eton and Oxford, and then New Inn.
Gilbert's aunt was Katherine Ashley (née Champernowne), governess of Princess Elizabeth, the future Elizabeth I, and she helped secure Gilbert a position in Elizabeth's household in around 1554.
In 1562-3, Gilbert served under the Earl of Warwick in the Newhaven expedition and was praised for his service.
In 1566, Gilbert wrote his "Discourse of a Discoverie for a New Passage to Cataia" supporting exploration for a northwest passage and also colonisation of the New World.
In 1566, Gilbert served in Ireland under Henry Sidney, Lord Deputy of Ireland, where he became interested in founding colonies in Munster and Ulster, although these never came to fruition.
In 1569, Gilbert served again in Ireland as colonel of the army in Munster, brutally defeating the Irish. He had the rebels decapitated and then used their heads to line the way to his tent so that those visiting him to submit saw them.
Gilbert was knighted by Sidney in Ireland in 1570.
In 1570, Gilbert married Anne Aucher. Together, they had six sons and one daughter.
In 1571, Gilbert served as a Member of Parliament for Plymouth. When he gave a speech defending the royal prerogative, Peter Wentworth branded him "a flatterer, a liar and a naughty man", going on to say that he could "change himself to all fashions but honesty". Gilbert was prevented from replying to Wentworth by the House, who shouted him down. The following year, he was MP for Queensborough.
Gilbert wrote "The erection of an achademy in London for educacion of her maiestes wardes, and others the youth of nobility and gentlemen" in the early 1570s advocating for the education of wards and younger sons in "matters of accion meet for present practize, both of peace and warre".
In 1572, Gilbert fought in an unsuccessful campaign in the Spanish Netherlands.
In 1578, Gilbert was awarded letters patent for six years of exploration and he set sail in November 1578. This expedition was shortlived, though, and he returned to England in spring 1579.
On 11th June 1583, Gilbert set sail from Plymouth with a fleet of five ships: the Delight, the Bark Ralegh, the Golden Hind, the Swallow, and the Squirrel. On 5th August 1583, he landed at St John's harbour, Newfoundland, and claimed St John's for the queen, along with all the land within 200 leagues' radius of the harbour, "thus establishing the first English possession in the New World since John Cabot's expedition in 1497" (R. Rapple). On 20th August, he set off for Sable Island, but on 29th August the Delight ran aground and sank. Gilbert wanted to continue with the expedition, but his remaining men wanted to head home to England. On their return, the Squirrel was engulfed by a storm around the Azores and on 9th September 1583 it sank. Gilbert stayed on deck as the ship sank and he was heard to cry, "We are as near to Heaven by sea as by land!"
Also on this day in Tudor history...
Notes and Sources
Rapple, R. (2012, January 05). Gilbert, Sir Humphrey (1537–1583), explorer and soldier. Oxford Dictionary of National Biography. Retrieved 6 Sep. 2023, from https://www.oxforddnb.com/view/10.1093/ref:odnb/9780198614128.001.0001/odnb-9780198614128-e-10690.
Hasler, P. W. (1981) "GILBERT, Sir Humphrey (c.1537-83), of Compton, Devon.", History of Parliament Online, http://www.historyofparliamentonline.org/volume/1558-1603/member/gilbert-sir-humphrey-1537-83.
Image: The last moments of Sir Humphrey Gilbert. Illustration from Cassell's History of the United States by Edward Ollier (c 1900).