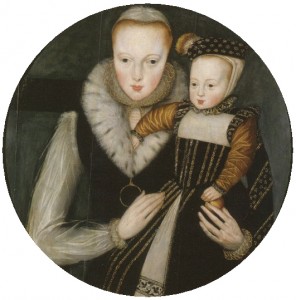 On this day in Tudor history, 24th September 1561, in the reign of Queen Elizabeth I, Edward Seymour, Viscount Beauchamp, was born at the Tower of London. He was baptised two days later.
Beauchamp was the eldest son of Katherine Grey (sister of Lady Jane Grey) and Edward Seymour, 1st Earl of Hertford, and he was born in the Tower because his parents had been imprisoned for marrying in late 1560 without the queen's permission.
Here are some facts about Beauchamp:
Beauchamp's maternal grandparents were Henry Grey, Duke of Suffolk, and his wife, Frances Brandon. His paternal grandparents were Edward Seymour, Duke of Somerset, and his wife, Anne Stanhope.
Beauchamp spent his early childhood with his mother, before she died in 1568, and his paternal grandmother, the Dowager Duchess of Somerset.
He was educated at home at Hanworth and then at Magdalen College, Oxford.
In 1581, Beauchamp secretly married Honora Rogers, daughter of Sir Richard Rogers of Bryanstone, Dorset, much to his father and grandmother's fury. His father did all he could to separate the couple, with father and son even petitioning the queen and the royal council, who decided in Beauchamp's favour. He and Honora went on to have three sons and were reconciled with Beauchamp's father and grandmother.
Despite Beauchamp's claim to the throne, through his great-grandmother, Mary Tudor, Beauchamp never pushed his claim and, therefore, Elizabeth I left him alone. However, she never recognised his parents' marriage and although he was allowed the courtesy title of Viscount Beauchamp, he was not recognised as his father's legitimate son.
In James I's reign, although the king would not overturn Elizabeth I's ruling on his parents' marriage, Beauchamp was granted the right to inherit his father's earldom on Hertford's death. However, he predeceased his father.
Beauchamp died on 13th July 1612 at Wick in Wiltshire. He was laid to rest first at Bedwyn Magna and then later moved to Salisbury Cathedral.
You can find out more about Beauchamp's mother, Katherine, by clicking here, and his father, Edward Seymour, Earl of Hertford, by clicking here.
Also on this day in Tudor history...
Notes and Sources
Doran, S. (2010, May 27). Seymour, Edward, first earl of Hertford (1539?–1621), courtier. Oxford Dictionary of National Biography. Retrieved 23 Sep. 2023, from https://www.oxforddnb.com/view/10.1093/ref:odnb/9780198614128.001.0001/odnb-9780198614128-e-25161.