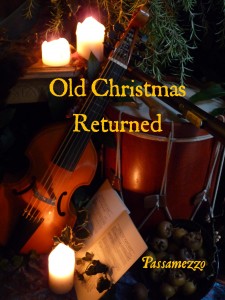 Thank you to Tamsin Lewis for sending me details of Passamezzo's schedule of forthcoming performances.
Old Christmas Returned - a series of Christmas concerts in December and January. Playing in London, Warwick, Cambridge, Guildford, Stoke by Clare (Suffolk), Boxgrove (Surrey), Pangbourne, Snodland (Kent) and on the Isle of Wight.
5 December: St James the Less, Pangbourne, Berkshire
6 December: St James' Church, Paddington, London
13 December: All Saints' Church, Snodland, Kent 01634 243001
14 December: Unitarian Chapel, Warwick
18 December: St John the Baptist Church, Stoke by Clare, Suffolk
19 December: Great St Mary's Church, Cambridge
21 December: Priory Church of St John, Clerkenwell, London
22 December: St Mary's Church, Guildford, Surrey
31 December: Wolverton Manor, Isle of Wight 01983 740609
9 January: Boxgrove Priory, Sussex
Tickets available in advance from www.ticketsource.co.uk/passamezzo
or 0844 8700887 unless otherwise stated, or at the door
Passamezzo
Eleanor Cramer, Robin Jeffrey, Alison Kinder,
Tamsin Lewis, Richard Mackenzie, Michael Palmer
Viols, Lute, Guitar, Recorders, Renaissance Violin, Voices
17th Century Music, Words & Song for Christmas
A seasonal programme from Advent to Candlemas.
How Christmas was celebrated, banned & restored in 17th Century England.
Ballads, lutesongs, carols, consort music, madrigals and readings.
Includes music by Attey, Bull, Dowland, Gibbons, Locke, Purcell & Wilson.