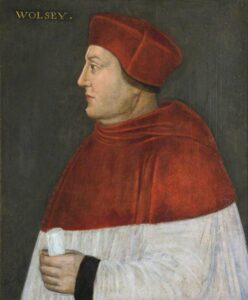 On this day in Tudor history, 18th October 1529, in the reign of King Henry VIII, Cardinal Thomas Wolsey surrendered the Great Seal of his office of Lord Chancellor following the writ of praemunire being filed against him on the 9th October.
Cardinal Wolsey had been the king's chief advisor for many years, but he had fallen in favour after the Legatine Court of summer 1529, over which Wolsey and Cardinal Campeggio presided, had adjourned without ruling on the king's case for an annulment of his marriage to Catherine of Aragon. Then, the pope had approved Catherine's appeal. Historian Eric Ives, in his book "The Life and Death of Anne Boleyn", also points out that Wolsey "lost Henry's confidence from late August onwards by miscalculating the king's mood and by mishandling the Treaty of Cambrai, in which Francis I totally deceived him and caused him, in turn, to mislead his master."
Wolsey's enemies, such as the Dukes of Norfolk and Suffolk, and Thomas Boleyn, father of Anne Boleyn, were able to take advantage of Wolsey being out of favour, painting him as a man who had not only sought to delay Henry's marriage to Anne Boleyn, but also as a man who, as Eric Ives points out, was "in the pocket of Francis I's mother and mentor, Louise of Savoy" and not working for England's best interests.
On 9th October 1529, Wolsey was charged with praemunire and on 18th October he was forced to surrender his seal of office. On 22nd October, he pleaded guilty and surrendered his property to the king. However, the king kept in secret contact with him and the cardinal was pardoned and restored to royal favour in February 1530.
Wolsey's restoration was short-lived and he'd lost royal favour by autumn 1530. He was arrested at his home, Cawood Castle, on 4th November and on 6th November began his journey to London. He contracted dysentery on the journey and died at Leicester Abbey on 29th November 1530. His famous last words were:
I se the matter ayenst me howe it is framed, But if I had served god as dyligently as I have don the kyng he wold not have geven me over in my grey heares.
Also on this day in Tudor history...
Image: A portrait of Cardinal Thomas Wolsey by an unknown artist, Trinity College, University of Cambridge.