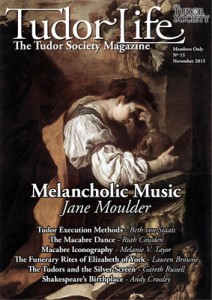 November - a very melancholy month!
The Tudors thought about death around the start of November, and so for this month's magazine we're doing the same. You'll be fascinated by the detailed articles we've put together for you to enjoy... though some are a little bit gruesome - be warned!
COMMENT BELOW FOR A CHANCE TO WIN A COPY OF A BOOK
Want a chance to win Kathryn Warner's acclaimed biography of King Edward II? Make sure you leave a comment below before the end of November!
This issue includes:
The macabre dance - Ruth Cowden
The life and death of George Villiers, Duke of Buckingham - Dominic Pierce
Melancholic music - Jane Moulder
Macabre iconography - Melanie V. Taylor
Dominic Pearce
The death and survival of Edward II - Kathryn Warner
The death and funerary rites of Elizabeth of York - Lauren Brown
Shakespeare quiz
English Tudor era execution methods - Beth von Staats
The Crown: The Tudors, Windsors and the silver screen - Gareth Russell
The once and future prince - Olga Hughes
November feast days - Claire Ridgway
Shakespeare's birthplace - Andy Crossley
High Quality Download (95Mb)
Smaller Download (14.5Mb)