I'm posting this week's Friday video a day early because I'm talking about New Year's Eve, which is also the feast day of St Sylvester, a 4th century pope.
Find out more about this saint and hear William Caxton's 15th century version of a legend associated with him, in this week's video.
You can read William Caxton's chapter on St Sylvester at https://sourcebooks.fordham.edu/basis/goldenlegend/GoldenLegend-Volume2.asp#Silvester.
This 13th century fresco shows Pope Sylvester and Emperor Constantine: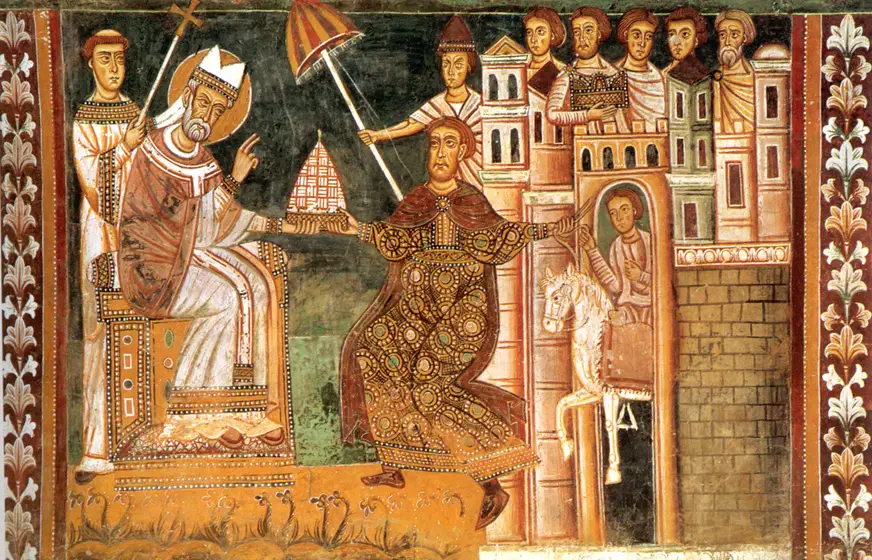 amd this 14th century fresco by Maso di Banco shows Pope Sylvester and the dragon:
Do have a read of the article Sausages, sponges and silver: Modern New Year vs Roman Saturnalia that Kevin Butcher, Professor of Roman History at Warwick University, shared with us a few years ago.
Here are the talks I mentioned on the Tudors and New Year:
The following video is the one I mention and is a wonderful video looking at books that were given to and by Tudor monarchs at New Year.
In this video, I mention John Nichol's early 19th century book The Progresses and Public Processions of Queen Elizabeth and you can read the lists of Elizabeth I's New Year gifts at https://archive.org/stream/progressesandpu01nichgoog#page/n38/mode/2up, pages xxxiii to xxli
Sources