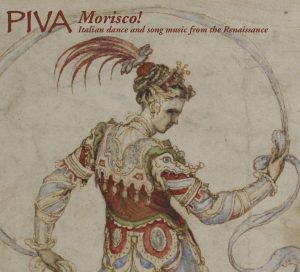 I know many of you enjoy Jane Moulder's articles on Renaissance music in Tudor Life magazine, so I wanted to share with you this press release for Jane's group's brand new CD "Morisco!". It's not available as a digital download yet, but you can buy the CD from the Piva website - http://www.piva.org.uk/shop.html.
Piva are one of the UK's leading early music groups who delight in exploring the roots of traditional European music from the 16th century. Morisco! contains their selection of Italian music from lively, exuberant dances through to quiet contemplative songs. Pavanas, pivas and ballos - the music invokes images of dancing and exuberance from days gone by but with Piva's unique interpretation; this really is music for today.
With finely textured arrangements, Piva injects new energy into this old music with their innovative use of instrumentation. The group has delved into the vaults to select a range of pieces, some rarely heard or recorded before, and they've discovered some real gems. The 20 tracks showcase a wide range of period instruments including bagpipes, recorders, shawms, guitar, violin, viol and sackbut.
Piva are in demand throughout the UK and Europe and have gained a reputation for their lively, energetic and engaging shows, they cross the divide between folk, traditional and classical music. Equally comfortable in a concert hall or festival marquee, they have been described as a "16th century Bellowhead" by Shrewsbury Folk Festival. This year they were one of the headline acts at the Greenwich International Early Music Festival.
Praise for Heigh Ho Holiday, their last cd:
"This is a must have album because it contains great tunes played well, while bringing to life the roots of the English traditional dance music ." fRoots Magazine
"A fine debut that is artfully produced, skilfully arranged and worthy of repeated listens." Chanter Magazine
About Piva:
Piva has been playing and performing together since 2002. The group was formed in order to specialise in the popular dance and ballad repertoire of the late 16th century with the aim of giving it a new life and energy for the 21st century. The members of Piva have a variety of musical backgrounds and interests, from classical and baroque through to jazz, folk and traditional music and they bring these different influences together to create something new.
For more information on Piva:
www.piva.org.uk
Follow Piva at www.facebook.com/PivaRenaissanceMusic/