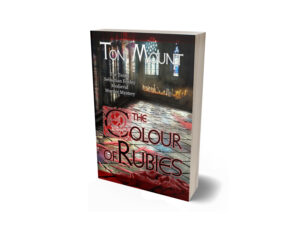 A warm Tudor Society welcome to historian and author Toni Mount and huge congratulations to her on the forthcoming release of her tenth Seb Foxley medieval murder mystery, a series I adore.
The Colour of Rubies comes out on 5th May and you can click here to find out more or pre-order it.
Toni is sharing a guest article with us to celebrate the publication of The Colour of Rubies...
In my tenth and latest Seb Foxley medieval murder mystery, The Colour of Rubies, the story requires our hero to go to Westminster Palace in order to discover a dead body – what else! Those familiar with my scribe/artist/sleuth will know that colour means everything to Seb so what better reason could he have for going to the royal palace with his brother, Jude, than to admire the beautiful stained glass in the Chapel of St Stephen?
Today, the jewel-like colours of stained glass with the sun shining through can still enthral us, despite our familiarity with full-colour TV, films and videos and vivid synthetic-dyed clothing. Imagine how glorious a church window would be to a medieval layman whose everyday world consisted of earthy tints and drabness. It might truly seem to be a little bit of heaven and certainly had to be worthy of its place in God's house. Medieval masons, carpenters and other craftsmen built to please God, as well as to impress men. We know this because churches and cathedrals have pieces of exquisite artwork and the highest standards of workmanship even in dark corners hidden behind vaulting or up among the rafters. These can't be seen by human eyes until disaster strikes and repairs have to be made, so they were originally meant for God's eyes only.
The cover design for my book, The Colour of Rubies, was inspired by the idea that Seb hoped to see the exquisite effect of sunlight through the stained glass, strewing fragments of ruby, sapphire and amethyst across the floor tiles, with emphasis on the 'rubies' because of the title. Readers may wonder how authors come up with their titles. In the first Seb Foxley novel, it took me months to decide and the title kept changing. The Triptych Murders became The Colour of the Moon and I liked the idea of The Colour of … since my sleuth is an artist, but the latter title gave no hint of the book being a murder mystery. Eventually, the book became The Colour of Poison – a much more suitable title. After that, I stuck with The Colour of … for the series but, if you have a contract with a publisher for future books, the 'works' have to be given titles long before they're written so, ever since the second little novella, The Colour of Gold, I've had to fit the stories to the titles, not the other way around. Usually, I've chosen something quite dark or gruesome such as Cold Blood, Murder, Death, Shadows and Evil, so Rubies is a bit of a departure but I had an idea for this one before I signed the current contract – the next two titles will be The Colour of Bone [well underway as I write this blog] and then Sin [just a few vague ideas at present but sin will definitely come into the story], so a return to more crime-related titles.
So much for my minor bursts of creativity. Let's return to the beauties of stained glass. This photo, taken in Washington Cathedral, USA, by Steven Heap, shows exactly what Seb wished to see in St Stephen's Chapel in Westminster Palace with jewel-like fragments of coloured light strewn on the floor.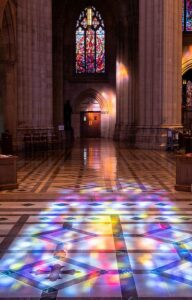 In late medieval England, two areas of the country were producing glass: the Weald area of Kent, Surrey and Sussex in the south-east and the West Midland counties of Shropshire and Staffordshire. In the middle of the fourteenth century, Edward III's projects at Windsor and Westminster, including St Stephen's, used glass from Chiddingfold in Surrey but it seems to have been only white and clear glass, not coloured. From the Westminster accounts, we know the white glass for St Stephen's cost just 6 pence, whereas the imported red glass cost 2 shillings and 2 pence and blue glass was even more expensive at 3 shillings, all bought by weight. Glass was measured by the 'wey' or 'wisp' of roughly 5lbs or 2.5kg – enough to glaze 2 feet or 60cms of window area. A 'seam' of glass consisted of 24 wisps.
In 1449, Henry VI brought in John Utynam from Flanders to make coloured glass for the windows at Eton and King's College, Cambridge, 'because the said art has never been used in England'. So coloured glass had always been imported from continental sources, Rouen in France supplied Exeter Cathedral and York Minster where Rhineland glass from Germany was also used. Venice supplied coloured glass for the London manor house of Coldharbour and for the Pewterers' guildhall.
The coloured glass was created at the time of manufacture by adding the metallic oxides to the pot of molten glass – cobalt oxide for deep blue; copper oxide for pale blues and green and other copper compounds for red. Manganese oxide gave purple or amber, depending on the temperature of the kiln. Iron oxides produced greens and browns, carbon oxides gave amber or brown and a mixture of lead and antimony gave a bright yellow. But none of these were 'ruby' glass which had to made differently.
The colouring agent in ruby glass was gold chloride but this produced such a deep, intense red that light couldn't shine through it, so it appeared black. The glass-makers solved this problem by creating 'flashed-ruby' which could either consist of sandwiched layers of white and red glass or by dipping white glass into molten ruby glass at the point of blowing it to give a thin outer layer of red over the white. This can cause interesting streaking effects or the red could be deliberately scraped away in some areas to produce a two-tone effect.
This window depicting Hell's mouth [lower right] from St Mary's Church, Fairford was made c.1500 by English and Dutch craftsmen who excelled in the use of flashed-ruby glass and the technique of 'abrasion' i.e. scraping away the red to reveal the white underneath to brilliant effect.
It was also possible to paint detail onto the glass after it was cut to size and shape and ready to put in place. This is how the figures were given facial features and other details as in this window [below] in Winchester College Chapel, Oxford, commissioned by the Bishop of Winchester c.1380. Note the faces, hands and cloth draperies are painted on top of the glass by Thomas Glazier of Oxford.
I hope this blog has given readers a little insight into how wonderful stained glass would have appeared in contrast to the rest of the dingy medieval world and the mysteries of its vibrant colours. As for the murkier side of life, readers can discover this by joining Seb, his family and friends on their exploits in medieval London and Westminster, stealing down dark alleyways, waiting nervously in opulent but filthy chambers and freezing their fingers off in the icy scriptorium where a murderer lurks… all this in The Colour of Rubies, by Toni Mount, published 5th May 2022.
The Colour of Rubies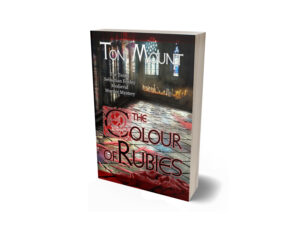 Murder lurks at the heart of the royal court in the rabbit warren of the Palace of Westminster. The year is 1480. Treason is afoot amongst the squalid grandeur and opulent filth of this medieval world of contrasts. Even the Office of the King's Secretary hides a dangerous secret.
Meeting with lords and lackeys, clerks, courtiers and the mighty King Edward himself, can Seb Foxley decipher the encoded messages and name the spy?
Will Seb be able to prevent the murder of the most important heir in England?
All will be revealed as we join Seb Foxley and his abrasive brother Jude in the latest intriguing adventure amid the sordid shadows of fifteenth-century London.
Praise for Toni Mount's The Colour of Rubies:
Tony Riches, author of The Tudor Trilogy "An evocative masterclass in storytelling."
Carol McGrath, author of the She-wolves trilogy "I was utterly transported - It's superb". "What a plot. What characters. Perfect pitch".
"I loved the relationship between Seb and Jude".
"The Colour of Rubies is a totally immersive experience as richly stitched as one of King Edward IV's gorgeous tapestries. This cleverly plotted novel with its twists and turns will keep a reader page turning late into the night until the book's final scenes. Sebastian and Jude are wonderfully realised personalities with similar emotions, concerns, fears and hopes we have have today. Their medieval London felt real and intriguing to me with unexpected dangers lurking in alleyways. I felt as if I was walking in Sebastian's footsteps. With this thrilling novel Toni Mount has shown herself a master of medieval suspense. More please".
Praise for Toni Mount's Sebastian Foxley Medieval Murder Series:
Tracy Borman, historian and broadcaster "An atmospheric and compelling thriller that takes the reader to the dark heart of medieval London."
Matthew Lewis author of Richard III Loyalty Binds Me "Toni Mount continues to delight with the superbly crafted Seb Foxley mysteries. Impeccable research and sculpted characters combine with an engaging narrative to create another irresistible story. This series goes from strength to strength, and I'm already looking forward to the next instalment"
J.P. Reedman, author of the I, RICHARD PLANTAGENET series: "Sebastian Foxley is the Cadfael of the 15th century".
"The Sebastian Foxley Medieval Mystery Series by Toni Mount is not only filled by dastardly murders and gripping intrigue but contains many well-researched historical facts from the Wars of the Roses era"
Samantha Willcoxson, author & historian "Toni Mount is simply brilliant".
"If you love CJ Sansom's Matthew Shardlake (and I do) you will love Toni's Sebastian Foxley".
"From learning how a 15th century scrivener created illuminated manuscripts to venturing within the dank tunnels beneath the Tower of London, Toni is an artist who completely immerses the reader in another time and place and always leaves one eager for the next book."
Stephanie Churchill, author of historical fiction and epic fantasy "Leave it to Seb to unravel another international spiderweb of intrigue, betrayal, murder, and deceit. Our flawed, loveable hero has done it again. And at the end of it all, his future is looking brighter than ever. I cannot wait to find out what happens to him next!"
Sharon Bennet Connoly, author and medieval historian "A beautifully crafted mystery that brings the dark, dangerous streets of medieval London to life. Toni Mount is a magician with words, weaving a captivating story in wonderful prose. The Colour of Evil is, to put it simply, a pleasure to read."
Rosalie Gilbert, medieval historian and author "The author's knowledge of medieval history shines through the narrative in the small details which enhance the story woven into it. The details about the inside workings of medieval trade practices lent themselves perfectly for a background to murder and deceit".
"Recommended for lovers of historic fiction."
Joanne R Larner author of Richard Liveth Yet trilogy: "I always look forward to a new 'Colour of...' book. I can't wait to see what escapades Seb Foxley and his brother, Jude, get up to next. They, and all the characters, are endearing and colourful. The books are always well written, conjuring 15th century London into the reader's mind and the plots are excellent!'
Mel Starr bestselling author of the Hugh de Singleton chronicles: "If I believed in reincarnation I would be willing to think that Toni Mount lived a previous life in 15th century London. The scents, the sights, the tastes of the late Middle Ages are superbly rendered."
Find out more about The Colour of Rubies at http://getbook.at/colour_of_rubies
Toni Mount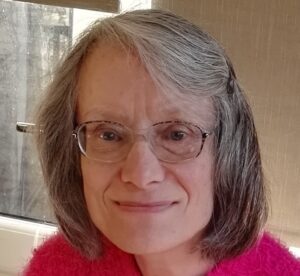 Toni Mount is the author of several successful non-fiction books including How to Survive in Medieval England and the number one best-seller, Everyday Life in Medieval England. Her speciality is the lives of ordinary people in the Middle Ages and her enthusiastic understanding of the period allows her to create accurate, atmospheric settings and realistic characters for her medieval mysteries. Her main character, Sebastian Foxley is a humble but talented medieval artist and was created as a project as part of her university diploma in creative writing. Toni earned her history BA from The Open University and her Master's Degree from the University of Kent by completing original research into a unique 15th century medical manuscript.
Toni writes regularly for both The Richard III Society and The Tudor Society and is a major contributor to MedievalCourses.com. As well as writing, Toni teaches history to adults, and is a popular speaker to groups and societies.
Catch the rest of Toni's blog tour for The Colour of Rubies...