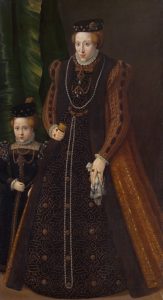 Thank you to Heather R. Darsie for writing this article for us today.
On 11 December 1581, Maria of Austria, Duchess of Jülich-Kleve-Berg, passed away at Hambach Castle. Maria began her life on 15 May 1531 in Prague, where she was welcomed as the third daughter and fifth of what would be fifteen children from the marriage of Ferdinand I, Holy Roman Emperor, and Anna Jagiello of Bohemia and Hungary. Ferdinand was a younger brother of Charles V, Holy Roman Emperor, and took up the position vacated by Charles in 1558. Maria was, therefore, niece to Charles V and cousin to Christina and Dorothea of Denmark.
At the age of 15, Maria married Wilhelm der Reiche, Duke of Jülich-Kleve-Berg, in the city of Regensburg on 18 July 1546. Her new husband was almost twice Maria's age. The marriage was a condition of the Treaty of Venlo between Wilhelm and Maria's uncle Charles. The two had been sparring over the territory of Gelders, which Wilhelm was bequeathed several years prior. Charles V's grandmother, Mary of Burgundy, had brought Gelders to her marriage with Maximillian I, Holy Roman Emperor and Charles' grandfather. Upon her untimely death, the territory of Gelders reverted to Mary's family and out of the hands of Maximilian, then passed through other hands until the territory was promised to Charles V upon the death of the childless ruler, who instead chose to bequeath the territory to Wilhelm. Such was the source of the conflict between Wilhelm and Charles.
By marrying Maria, Wilhelm not only gave up his claim to Gelders, but was then also to uphold the Catholic faith, or at least, not promote the Reformation. Wilhelm was the younger brother of Sybyla, Electress of Saxony and Anna von Kleve or Anne of Cleves, one-time Queen of England. Sybyla's husband was a staunch supporter of the Reformation as his father had harboured Martin Luther, and Anna's husband had famously broken with Rome to reform the English church. Amalia, the youngest sibling, also followed the teachings of Martin Luther.
Not uncharacteristic of the time, there is not much information on Maria besides when she was born, who she married, how many children Maria had, and when she died. Maria and Wilhelm had seven children, namely five daughters and two sons. Except for their fourth daughter, who died in childhood, all of Maria's daughters married members of the Germanic nobility. Her eldest son, the hereditary prince, died when he was roughly twenty years old, leaving Maria's youngest son and youngest child to become the next Duke of Jülich-Kleve-Berg after Wilhelm passed away.
Sadly, it seems that Maria may have been afflicted with mental illness much like her grandmother, Juana of Castile, who later earned the moniker of Juana the Mad. Maria began showing disorganised thought patterns later in life. Her mental state markedly deteriorated, and she passed away at the age of 50. Maria left Wilhelm a widower for over ten years before he too passed away. Maria was buried in the Church of the Ascension of the Virgin Mary in Kleve. Wilhelm was buried in Düβeldorf.
Maria was an important political bride due to uncle, then father, being the Holy Roman Emperor. She enjoyed a fruitful marriage with Wilhelm before passing away at a respectable age for the period. Though she lost some of her mental faculties toward the end of her life, it appears that Maria otherwise enjoyed a quiet, peaceful existence, blessed with several children.
Heather R. Darsie lives in the United States with her family and three parrots. She works in the legal field, with a focus on children. She obtained a Bachelor of Arts degree in German Languages and Literature, then a Juris Doctorate in American jurisprudence, and studied abroad in Costa Rica and France. Heather has always loved history. She first became acquainted with Elizabeth I when she was in middle school and chose to write a book report about her. Since then, she has always held an interest in the Renaissance and its numerous enigmatic citizens, with particular focus on the history of England and Italy. She is currently working on a book on the heraldry of Tudor women and is also researching Anne of Cleves.
Sources & Suggested Reading
Picture: Maria and her daughter Marie Eleonore by Jakob Seisenegger.
von Wurzbach, Dr. Constantin. Maria, Erzherzogin von Oesterreich, Herzogin zu Berg, Jülich und Cleve, in Biographisches Lexikon des Kaiserthums Oesterreich. Vienna (1861).
Crecelius, Wilhelm. Der geldrische Erbfolgestreit zwischen Kaiser Karl V. und Herzog Wilhelm von Jülich, Berg und Cleve (1538–1543), in Zeitschrift des Bergischen Geschichtsvereins 23 (1887).
Harleß, Woldemar. Wilhelm V., in: Allgemeine Deutsche Biographie. Leipzig: Duncker & Humblot (1898).