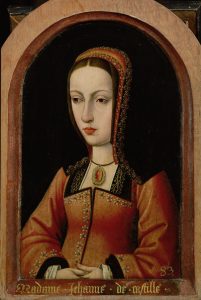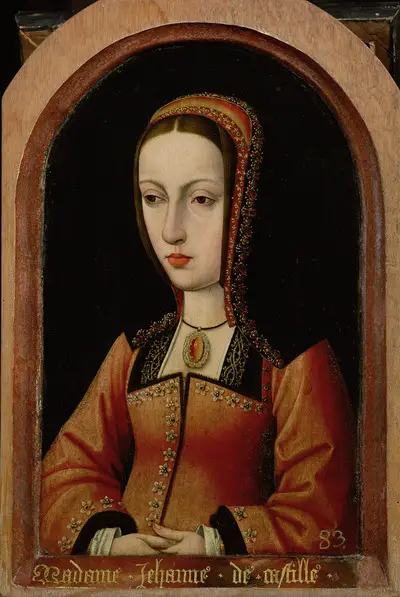 Thank you to regular contributor Heather R. Darsie for this article on Juana of Castile who has gone down in history as "Juana la Loca".
Juana of Castile, known as Juana la Loca or Joanna the Mad, was the elder sister of Catherine of Aragon and sister-in-law to Henry VIII of England. Juana married Philip the Handsome in 1496, when she was 16. She went on to have six children with her husband, including Charles, who later became the Holy Roman Emperor. Juana was an intelligent young woman and, like her sisters, received a considerable education for the time-period. It was reported that Juana could speak the three main languages of the Iberian Peninsula, along with Latin and French.
Juana was never expected to be Princess of Asturias (the title of the heir apparent to the throne of Aragon), let alone Queen of Spain. Juana had two older siblings, her sister, Isabella, and a brother, Juan. Juan sadly died in 1497 at the age of 19 and his wife, Margaret of Austria, gave birth to a stillborn daughter two months after his death. Juana's sister, Isabella died in 1498, shortly after giving birth to her son Miguel. Miguel died in 1500 before his second birthday. This succession of deaths quickly catapulted Juana to her new position of Princess of Asturias, the title given to the heir to the throne of Castile. Juana's mother, the formidable Catholic monarch, Isabella I of Castile, passed away in 1504. This left the throne of Castile and Leon to Juana. She inherited the Kingdom of Aragon from her father upon his death in 1517.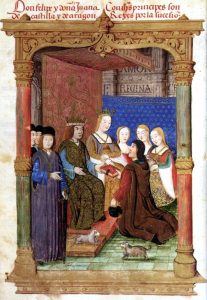 Juana had started exhibiting signs of mental instability in 1504, when her mother was stricken with a fever. As was seen at other times during her lifetime, Juana was not eating or sleeping when her mother fell ill. After visiting with her mother, Juana wished to join her husband in Flanders, which would mean she would have to travel through France at a time when France and Castile were at war. When she was prevented from leaving for Flanders, twenty-four-year-old Juana flew into a rage.
Perhaps one of Juana's most notorious, lurid displays of mental instability occurred when her husband died in September of 1506. Already known to fly into jealous rages over her husband's mistresses, even reportedly going so far as to attack at least one, Juana refused to part with her deceased husband's remains for a disturbingly long time. Quite pregnant, Juana travelled with her husband's body from Burgos to Granada, where he was to be buried. This is a distance of 668 kilometres, which would take around 6 1/2 hours to drive in a car today, so an extraordinary distance to cover in those days. Juana was said to have opened her husband's casket to embrace him and kiss him.
Unfortunately, Juana's husband Philip had spread rumours about her madness when he was still alive and her behaviour after his death may have reinforced these rumours. Juana's son, Charles, who became the Holy Roman Emperor Charles V, eventually took over from Juana as regent, and then, monarch. In 1509 Juana was either placed in, or retired to, the Royal Monastery/Convent of Santa Clara in Tordesillas, Castile. Charles forbade Juana any visitors. She died there on 12th April 1555, Good Friday, at the age of 75. Juana was laid to rest in Granada's La Capilla Real, the resting place of her husband and parents.
So, was Juana mad? Was she undermined by her husband or son?
Juana's maternal grandmother, Isabella of Portugal, supposedly also suffered from mental illness and was sent to a convent. Juana's grandson Carlos and great-granddaughter Maria of Austria, Duchess of Jülich-Cleves-Berg, reportedly also went mad. It is thought that Juana may have suffered from a wide range of mental illness, including schizophrenia and depression. However, it does seem that her behaviour escalated in response to the deaths of her siblings, her nephew, her mother and her husband. Both Philip the Handsome and Charles V had a lot to gain from Juana being declared unfit to rule. She was also sent, or perhaps banished, to a convent by her son and not allowed any visitors for the rest of her life. So was Juana mad, or was she the victim of ruthless individuals in her life? What do you think?
Heather R. Darsie lives in the United States with her family and three parrots. She works in the legal field, with a focus on children. She obtained a Bachelor of Arts degree in German Languages and Literature, then a Juris Doctorate in American jurisprudence, and studied abroad in Costa Rica and France. Heather has always loved history. She first became acquainted with Elizabeth I when she was in middle school and chose to write a book report about her. Since then, she has always held an interest in the Renaissance and its numerous enigmatic citizens, with particular focus on the history of England and Italy. She is currently working on a book on the heraldry of Tudor women and is also researching Anne of Cleves.
Sources & Suggested Reading
Pictures: Juana of Castile by the Master of the Legend of the Magdalen, Juana and Philip the Handsome with their subjects.