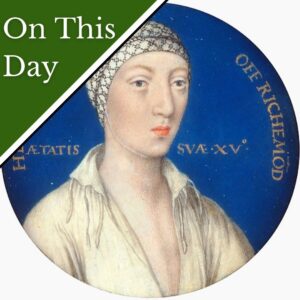 The 15th June 1519 is the traditional birthdate of Henry VIII's illegitimate son, Henry Fitzroy, Duke of Richmond and Somerset, although the 18th is a more likely date.
Fitzroy's mother, Elizabeth Blount, known as Bessie Blount, was serving as one of Catherine of Aragon's maids of honour when she was noticed by the king and became his mistress. After it was found that she was pregnant, she was sent to the Priory of St Lawrence, in Blackmore, Essex, by Cardinal Thomas Wolsey before her pregnancy became visible.
Bessie's baby boy was baptised at the chapel at Blackmore with Cardinal Wolsey acting as godfather.
Henry VIII recognised Fitzroy as his son and gave him a double dukedom in June 1525, making him the highest ranking peer in the country. Unfortunately, Fitzroy died on 22nd July 1536 aged just 17.
You can find out more about Henry Fitzroy and also his sister, Elizabeth, who also may have been fathered by the king, in my video talk on them - click here.
Also on this day in Tudor history...
Image: Miniature of Henry Fitzroy, Duke of Richmond and Somerset, by Lucas Horenbout