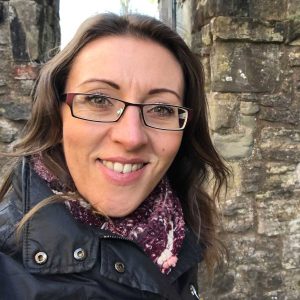 Some time ago, we asked for feedback on the Tudor Society. We asked what people would like to see on the site. It was very encouraging because the feedback showed that we were offering everything that people wanted, except for just one thing: virtual tours of historic places. We racked our brains over how we could offer this to our members and then Claire realised that we could get our good friend Philippa Lacey Brewell involved. Philippa runs British History Tours and her expertise is historical places, so asking for her help was a no-brainer! Fortunately, Philippa agreed to help us and will be giving us virtual tours (or as close to a virtual tour as she can get!) of historical places linked to the Tudors. She will be doing one a month for us as the Tudor Society roving reporter - yay!
Philippa grew up in the heart of England, in a region affectionately referred to as the 'Black Country', reportedly following a scathing remark from Queen Victoria in reference to the belching factories she witnessed whilst passing through!
Philippa's interest in history began in 1999 as a quest to discover a female role model, lacking in the world (she felt) at the time. She began her quest reading about Elizabeth I. To understand her world she began to travel to the places featured in her story. From here her interest grew into all periods of British history with the emphasis of her studies always on travelling to where history happened.
She decided that what she'd learned and discovered along the way should be shared with a wider audience and began British History Tours in 2012. In 2018, she led two Tudor history themed tours in association with the Tudor Society. She has written for various publications including History Extra, Tudor Life and Flybe. She is currently working on her first book, on The Magna Carta.