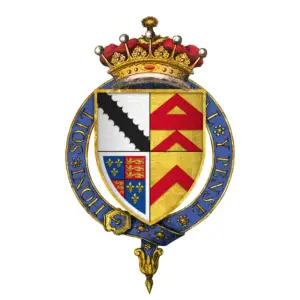 On this day in Tudor history, 17th February 1557, Henry Radcliffe, 2nd Earl of Sussex, died at Cannon Row in Westminster. He was buried firstly at St Laurence Pountney and then moved to Boreham in Essex.
Sussex, who was about 50 at his death, was the son of courtier and soldier Robert Radcliffe, 1st Earl of Sussex. He accompanied the king and Anne Boleyn on their 1532 Calais visit and was made a Knight of the Bath in the celebrations for Anne's coronation in 1533. He commanded men under the Duke of Norfolk in Henry VIII's French campaign in 1544 and was lord sewer at Edward VI's coronation in 1547. He served as joint lieutenant of Norfolk in 1551, 52 and 53.
In the succession crisis of July 1553, Sussex supported Mary I and she made him her commander in chief. He went on to serve her as a privy councillor and on the commission which tried Lady Jane Grey. In 1554, he was elected as a Knight of the Garter and in 1555 he served as Lord Lieutenant of Norfolk and Suffolk. Although he was loyal to Mary, he did not support her marriage to Philip of Spain and did not support the arrest of Elizabeth in 1554, weeping as he escorted her into the Tower of London and saying to his colleagues "What will ye doe, my Lordes … She was a kinges daughter and is the queenes syster, and ye have no sufficient commyssyon so to do."
Sussex married twice. Firstly to Elizabeth Howard, daughter of Thomas Howard, 2nd Duke of Norfolk, with whom he had three sons, Thomas, Henry and Robert. Following Elizabeth's death in 1534, he married Anne Calthorp, daughter of Sir Philip Calthorp, with whom he had three children: Egremont, Maud and Frances. This second marriage was not happy because Sussex was a religious conservative while his wife was one of a circle around Queen Catherine Parr who had shared reformed religious views. Anne was imprisoned in the Tower in 1552 for alleged sorcery and in 1553, following the accession of Mary I, she fled into exile and Sussex divorced her.
When Sussex died in 1557, his eldest son, Thomas, became 3rd Earl of Sussex.
Also on this day in Tudor history...