Today's Claire Chats video is inspired by an "ask the expert" question submitted by Tudor Society member Beth on red hair in Tudor times - thank you, Beth!
This is the portrait of Robert Devereux, Earl of Essex, by Marcus Gheeraerts that is mentioned in the video.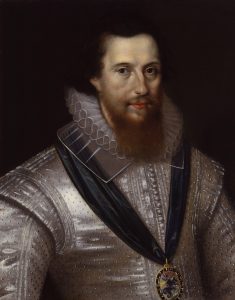 Here is a gallery of some of the people mentioned in my talk. I wonder if James Butler dyed his beard too!
By the way, on this day in history, 29th September 1553, Mary I created fifteen Knights of the Bath as part of her coronation celebrations - click here to read more. 29th September is also Michaelmas and you can read more about it on our September Feast Days page.
Sources
"The Myths and History of Red Hair" - http://www.themythsandhistoryofredhair.co.uk/heresy.html
"The Redheaded Folk: Irish Mythology" - https://aliisaacstoryteller.com/2015/07/06/irish-mythology-the-red-headed-folk/
The Vampire: His Kith and Kin, Montague Summers, Chapter 3.
Red Hair, Wikipedia - https://en.wikipedia.org/wiki/Red_hair
"Where did the Tudor red-gold hair come from?" - https://sucheternaldelight.wordpress.com/2010/06/25/where-did-the-tudor-red-gold-hair-come-from/
"How Elizabeth I made red hair fashionable in 1558" - https://www.theguardian.com/fashion/fashion-blog/2015/sep/08/how-elizabeth-i-made-red-hair-fashionable-in-1558
"Red Hair: A Mutation, A Royal Trait, and Sometimes a Curse" (Sheikh 2009) - https://www.researchgate.net/publication/276353853_Red_Hair_A_Mutation_A_Royal_Trait_and_Sometimes_a_Curse_Sheikh_2009
"How many redheads are there in the world?" - http://www.bbc.com/news/magazine-24331615
Encyclopedia of Hair: A Cultural History by Victoria Sherrow, Greenwood, 2006.
Lives of the queens of England, from the Norman conquest with Anecdotes of their Courts, Volume V, by Agnes Strickland, Henry Colburn, 1842.
Queen Elizabeth and her Times, A Series of Original Letters selected from the Inedited Private Correspondence of the Lord Treasurer Burghley, The Earl of Leicester, The Secretaries Walsingham and Smith, Sir Christopher Hatton, and Most of the Distinguished Persons of the Period, in two volumes, edited by Thomas Wright, Henry Colburn, 1838. Letter in Volume II, p. 129.