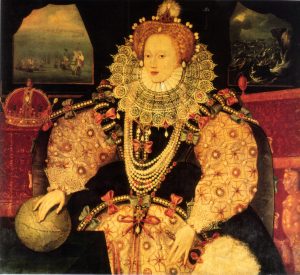 Thank you to our art historian Melanie V Taylor for phoning me this morning with this news. The Art fund has just announced that its public appeal, along with a £7.4 million grant from the Heritage Lottery Fund, has enabled Royal Museums Greenwich to buy the Elizabeth I Armada portrait, thus saving it from disappearing into a private collection or moving abroad. Yay! I'm so pleased by this and thank you to all those who donated to the appeal.
The Art Fund says:
"This remarkable historic portrait will now enter public ownership for the first time in its 425-year-history and will hang in the Queen's House when it reopens following a major restoration on 11 October. Fittingly, the Queen's House sits on the site of the original Greenwich Palace, the birthplace of Elizabeth I herself."
You can read more about this at www.savearmada.org/news/iconic-elizabeth-i-portrait-saved
How fitting that this news should be released on the day that the Spanish Armada was defeated at the Battle of Gravelines in 1588!