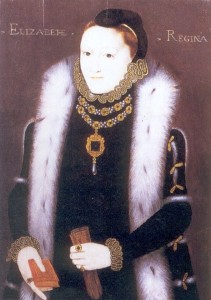 On 10th October 1562, twenty-nine-year-old Queen Elizabeth I was taken ill at Hampton Court Palace. It was thought that the queen had caught a bad cold but when she developed a violent fever it became clear that it was something more serious; Elizabeth had smallpox.
Bishop Quadra wrote to the Duchess of Parma six days later:
"The Queen has been ill of fever at Kingston, and the malady has now turned to small-pox. The eruption cannot come out and she is in great danger. Cecil was hastily summoned from London at midnight. If the Queen die it will be very soon, within a few days at latest, and now all the talk is who is to be her successor. Lord Robert has a large armed force under his control, and will probably pronounce for his brother-in-law, the earl of Huntingdon.—London, 16th October 1562."
Obviously, Elizabeth didn't die, and she was lucky that her scarring was minimal, but Robert Dudley's sister, Lady Mary Sidney, who nursed her good friend the queen through her illness, caught smallpox and became badly disfigured.
Here is my Claire Chats video on the topic:
Notes and Sources
History of Smallpox, CDC.
Smallpox: inoculation and vaccination, Science Museum.
Edward Jenner and the history of smallpox and vaccination, Stefan Riedel.
McCabe, Stuart (2016) Queen Margaret Tudor: The Story of a Courageous but Forgotten Monarch, Mereo Books.
Henderson, D.A. (2009) Smallpox: The Death of a Disease, Prometheus Books.
O'Caellaigh, Seamus (2017) Pustules, Pestilence and Pain, Draft manuscript, MadeGlobal Publishing.
Hopkins, Donald R. (2002) The Greatest Killer: Smallpox in History, University of Chicago Press.
Kotar, S.L. and Gessler, J.E. (2013) Smallpox: A History, McFarland.
ed. Kaulek, Jean Baptiste Louis (1885) Correspondance politique de mm. de Castillon et de Marillac, ambassadeurs de France en Angleterre (1537-1542); pub. sous les auspices de la Commission des archives diplomatiques
'Henry VIII: March 1514, 1-10', in Letters and Papers, Foreign and Domestic, Henry VIII, Volume 1, 1509-1514, ed. J S Brewer (London, 1920), pp. 1179-1188. British History Online http://www.british-history.ac.uk/letters-papers-hen8/vol1/pp1179-1188
Creighton, Charles (1891) A History of Epidemics in Britain: From A.D. 664 to the great plague, Volume 1, Cambridge University Press.
'Simancas: October 1562', in Calendar of State Papers, Spain (Simancas), Volume 1, 1558-1567, ed. Martin A S Hume (London, 1892), pp. 261-265. British History Online http://www.british-history.ac.uk/cal-state-papers/simancas/vol1/pp261-265
ed. Brady, Ciaran (2002) A Viceroy's Vindication? Sir Henry Sidney's Memoir of Service in Ireland, 1556-78, Cork University Press.
Tucker, Jonathan B. (2002) Scourge: The Once and Future Threat of Smallpox, Grove Press.
Strickland, Agnes (1843) Lives of the Queens of England, Volume VI, Henry Colburn.