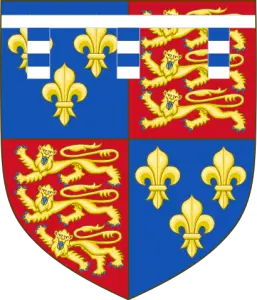 The brief life of Edward Plantagenet, 17th Earl of Warwick, can be interpreted as an exercise in the harsh realpolitik of fifteenth-century England. The only son and heir of George, Duke of Clarence, Edward was born on 25 February 1475 in Warwick; his sister Margaret had been born two years previously. He was the nephew of the first Yorkist king, Edward IV, who had seized the throne from Henry VI in 1461. Edward's mother Isabel, sister of Richard III's consort Anne Neville, died when he was an infant, and his father was executed for treason in 1478. The lands of Clarence were seized by the Crown, including those belonging to his infant son. In 1481, Edward was placed in the wardship of Thomas Grey, Marquis of Dorset. He attended the coronation of his uncle Richard in 1483 and was knighted at the investiture of Richard's heir, also named Edward, at York in September. The prince died the following year and it is possible that the king considered the Earl of Warwick as his heir.
During Richard III's reign, Edward resided at Sheriff Hutton in North Yorkshire in the company of his cousins John, Earl of Lincoln, and Elizabeth, later Queen of England. Christine Carpenter has indicated that the king surely favoured his nephew John as heir to the throne rather than his nephew Edward, in view of 'the dangers of drawing attention to the fact that Edward had a better claim to the throne than Richard himself.' However, as the son of a convicted traitor, it is improbable that Edward could have convincingly pressed his claim had he been so inclined.
Traditionally it has been speculated that the earl of Warwick was disabled, primarily because the Tudor chronicler Edward Hall later asserted that Warwick's imprisonment 'out of all company of men, and sight of beasts, in so much that he could not discern a goose from a capon.' This comment, however, seems to suggest that the earl's education was limited, rather than indicating a disability.
His imprisonment commenced in 1485 when his uncle Richard III was slain in battle at Bosworth and the throne was seized by Henry Tudor. Both the new king and his son – the future Henry VIII – demonstrated an ability to treat the House of York with calculated harshness. Henry VII ordered the removal of Edward from Sheriff Hutton to the Tower of London. The new king, however, was not secure on his throne during the early years of his rule, and disaffected Yorkists perceived the Earl of Warwick to be the rightful heir to the throne. Plots and conspiracies focused on deposing the Tudor king and replacing him with Edward. However, it was the actions of the pretender Perkin Warbeck that ultimately sealed Edward's fate. Warbeck, who pretended to be Edward IV's son, Richard, Duke of York, was incarcerated in the Tower in 1498. He was accused of plotting to escape from the Tower in the company of the earl; the latter was also thought to have plotted the deposition of the king.
In November 1499, Warbeck and Warwick were tried at Westminster. Both were found guilty of treason and Warwick was executed on 28 November at Tower Hill. The earl was buried at Bisham Abbey in Berkshire. There is no evidence to indicate that Warwick had actually conspired to effect Henry VII's deposition and death; it is more likely that the earl was removed in response to pressure exerted by Ferdinand and Isabella of Spain, who were desirous of achieving a marital alliance between their daughter Katherine and Henry VII's son Arthur. According to the later testimony of Jane Dormer, Duchess of Feria, Katherine 'applied these miseries and disasters to have specially happened for the death of Prince Edward Plantagenet, son of the Duke of Clarence, brother to King Edward the Fourth; whom (most innocent) Henry VII put to death to make the kingdom more secure to his posterity, and to induce King Ferdinand to give his daughter, this Catharine, in marriage to Prince Arthur'. In 1541, Edward's sister Margaret was brutally executed on the orders of Henry VIII. Like her brother, there was no evidence to indicate that she was guilty of treason; rather, it seems more likely that both siblings were put to death as a means of eliminating any perceived threat posed by the house of York.
Conor Byrne is the author of Katherine Howard: A New History and Queenship in England: 1308–1485 Gender and Power in the Late Middle Ages. He is a British graduate with a degree in History from the University of Exeter. Conor has been fascinated by the Tudors, medieval and early modern history from the age of eleven, particularly the lives of European kings and queens. His research into Katherine Howard, fifth consort of Henry VIII of England, began in 2011-12, and his first extended essay on her, related to the subject of her downfall in 1541-2, was written for an Oxford University competition. Since then Conor has embarked on a full-length study of Queen Katharine's career, encompassing original research and drawing on extended reading into sixteenth-century gender, sexuality and honour. Some of the conclusions reached are controversial and likely to spark considerable debate, but Conor hopes for a thorough reassessment of Katherine Howard's life. Conor runs a historical blog which explores a diverse range of historical topics and issues. He is also interested in modern European, Russian, and African history, and, more broadly, researches the lives of medieval queens, including current research into the defamed 'she-wolf' bride of Edward II, Isabella of France.
Conor has just completed his Masters.
Picture: Arms of Edward Plantagenet.