Last Few Discount Tickets Available - Offer Closes 7 February
If you've been thinking about coming on the Discover Tudors Tour, now is the time to book your tickets. The last few discount tickets where you can save £300 per person are only available for a few more days - until 7th February - so BOOK NOW!
https://www.britishhistorytours.com/history-tours/discover-the-tudors
What is Discover the Tudors?
We've done all the hard work organising an amazing and exclusive tour-of-a-lifetime so that you can just come along and enjoy the best that the UK has to offer in Tudor history in this nine-day historical tour.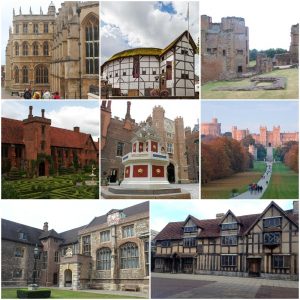 Along with experts including Claire Ridgway (Tudor Society) and Phillipa Brewell (British History Tours) to guide you each day, you'll also be meeting Leanda de Lisle and Dr Elizabeth Golding and hearing them speak about Tudor history.
The tour visits some of the most important Tudor sites including Windsor Castle, Hampton Court Palace, Hatfield House, Shakespeare's Birthplace, Shakespeare's Schoolroom, New Place, Shakespeare's Grave, Kenilworth Castle, Bosworth Battlefield, Charterhouse, Shakespeare's Globe Theatre. You'll also visit the Tudor Gallery at the National Portrait Museum and see the original portraits of your Tudor heroes.
Accommodation is in historically interesting 4* hotels - the best of style, luxury and Tudor elegance combined, and we've made sure that everything is perfect for you to enjoy - the trip includes 12 historic venues, 3 expert talks, private tours, beautiful 4* hotels, private coach and even dedicated and knowledgeable tour managers. From the moment you start this tour you'll be enjoying Tudor history at its best.
Places are limited
There are only a limited number of places available on this tour, and even more limited is that our early-bird discount ticket sales close on February 7.
You should book as soon as possible so that you don't miss out on this fantastic Tudor experience.
https://www.britishhistorytours.com/history-tours/discover-the-tudors