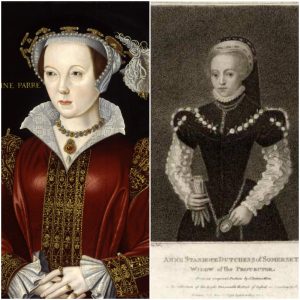 Thank you to Tudor Society member RealTudorLady for asking this question: "I have been reading recently that Anne Seymour, wife of Edward Seymour was jealous of Queen Katherine Parr and that the two women hated each other. This was rumoured to stem from Anne Seymour (Stanhope) demanding precedence over the Dowager Queen as her husband was Lord Protector and although she was not entitled to this she demanded it anyway. She also told her husband to get rid of his brother. Is there any truth to these rumours?"
Historian and author Conor Byrne answered the question...
The suggestion that Anne Seymour, Duchess of Somerset, experienced conflict with the dowager queen, Katherine Parr, in 1547-8 can be dated to rumours circulating in the duchess's lifetime. It has also long been claimed that Anne encouraged her husband, the Lord Protector, to assent to the execution of his younger brother Thomas Seymour, who was the husband of Katherine Parr.
The unknown author of the so-called "Spanish Chronicle", for example, recorded that the 'proud' duchess 'thrust' herself into Katherine's place at court and later instructed her husband to have Seymour beheaded. These claims were repeated in seventeenth-century texts, including that penned by John Clapham. Modern authors have emphasised Anne's alleged arrogance and haughtiness – see my article on this website for an analysis of her representation in recent works - Anne Seymour, Duchess of Somerset.
Retha Warnicke has suggested that the Duke of Somerset and Thomas Seymour, rather than their wives, were concerned about matters of precedence at court, and whether the dowager queen could be upstaged by the duchess. She does concede, however, that animosity existed between Anne and Katherine. Both women were formidable characters, and Katherine's correspondence provides evidence of her dislike of the duchess. Both the duke and duchess were outraged when Katherine wed Thomas Seymour only three or four months after Henry VIII's death in January 1547. Warnicke believes that 'Katherine's animosity arose from the unwillingness or... the inability of Lady Somerset [Anne], her former attendant, to win favorable treatment for her from the lord protector [Somerset] rather than from any deliberate act of hers.'
As to the charge that Anne encouraged her husband to order Thomas Seymour's execution in 1549, only the Spanish chronicler claimed that she was responsible for his death. Other contemporary authors blamed the Duke of Warwick and his allies at court. The Duke of Somerset later informed the future Elizabeth I that he had agreed to Seymour's execution, without naming his wife.
Conor Byrne studied at the universities of Exeter and York. He specialises in late medieval and early modern English history, with an emphasis on royal history, gender relations and Tudor queenship. His first book, Katherine Howard: A New History (2014) was published by MadeGlobal and has been described as 'a brilliant study', 'a new and refreshing biography of Katherine Howard' and 'a timely addition to Tudor scholarship'. Conor's second book Queenship in England (2017) was also published by MadeGlobal and provides an in-depth analysis of fourteenth- and fifteenth-century queenship. He runs an active Facebook page at www.facebook.com/ConorByrneHistorian.