Hello! Happy Friday! I was supposed to be recording this as a video, but Covid really knocked Tim and I for six. We're both recuperating well, but it's just made me so tired. Thankfully the coughing fits are easing now - phew!
Anyway, I'm doing this as a post instead.
Recently, with the cold, dark nights and being poorly, I've got lost in some wonderful historical fiction, and although I know that many of you have "to read" lists that are way too long already, I thought I'd share some recommendations with you. These are the books that have transported me back in time and kept me sane recently. Oh and they're all on kindle too, so you can have them in an instant!...
Go Tell the Bees That I Am Gone by Diana Gabaldon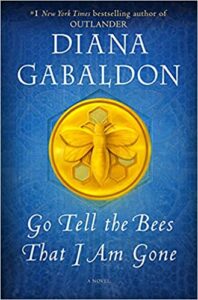 This is book 9 of the popular Outlander series which you may have heard of due to it being adapted for television by Starz.
I had pre-ordered this on kindle and was quite literally counting the days until its release, and re-reading book 8 in anticipation. I am a huge Outlander fan. I think Diana Gabaldon has an amazing talent of bringing the past to life and reading her books is just pure joy. What I have about reading her books, though, is that empty feeling when you've finished and the next one isn't out!
I'm not going to share the blurb for book 9 as I don't want to spoil the story for those of you who haven't read the other books, instead I'll share the blurb for book 1. Please please please pick up book 1, you won't regret it. The combination of history, love and intrigue is brilliant. I cannot recommend this series enough.
Blurb for book 1, Outlander:
Unrivaled storytelling. Unforgettable characters. Rich historical detail. These are the hallmarks of Diana Gabaldon's work. Her New York Times bestselling Outlander novels have earned the praise of critics and captured the hearts of millions of fans. Here is the story that started it all, introducing two remarkable characters, Claire Beauchamp Randall and Jamie Fraser, in a spellbinding novel of passion and history that combines exhilarating adventure with a love story for the ages.
Scottish Highlands, 1945. Claire Randall, a former British combat nurse, is just back from the war and reunited with her husband on a second honeymoon when she walks through a standing stone in one of the ancient circles that dot the British Isles. Suddenly she is a Sassenach—an "outlander"—in a Scotland torn by war and raiding clans in the year of Our Lord . . . 1743.
Claire is catapulted into the intrigues of a world that threatens her life, and may shatter her heart. Marooned amid danger, passion, and violence, Claire learns her only chance of safety lies in Jamie Fraser, a gallant young Scots warrior. What begins in compulsion becomes urgent need, and Claire finds herself torn between two very different men, in two irreconcilable lives.
The City of Tears by Kate Mosse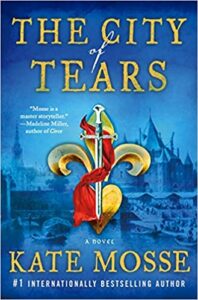 This is book 2 in Kate Mosse's The Burning Chambers series and it's what I'm reading at the moment. It's set in 16th century Europe, in the French Wars of Religion and as a Tudor historian I am getting rather worried about the characters dear to my hear as they travel to Paris for the royal wedding in August 1572 - "Turn back!", I am urging them as I know what happens on St Bartholomew's Day in Paris in 1572!
I am completely hooked to this book, as I was with The Burning Chambers and Mosse's Languedoc Trilogy. They are fab reads.
Here is the blurb for Book 1, The Burning Chambers:
Power and Prejudice: France, 1562. War sparks between the Catholics and Huguenots, dividing neighbors, friends, and family―meanwhile, nineteen-year-old Minou Joubert receives an anonymous letter at her father's bookshop. Sealed with a distinctive family crest, it contains just five words: She knows that you live.
Love and Betrayal: Before Minou can decipher the mysterious message, she meets a young Huguenot convert, Piet Reydon. Piet has a dangerous task of his own, and he will need Minou's help if he is to stay alive. Soon, they find themselves on opposing sides, as forces beyond their control threaten to tear them apart.
Honor and Treachery: As the religious divide deepens, Minou and Piet find themselves trapped in Toulouse, facing new dangers as tensions ignite across the city―and a feud that will burn across generations begins to blaze. . .
The Slains series by Susanna Kearsley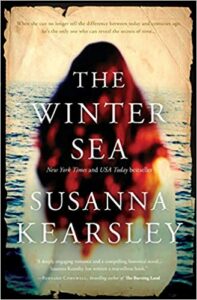 I came across this series by Susanna Kearsley thanks to Diana Gabaldon sharing her endorsement of it on social media. I've just enjoyed Book 1, The Winter Sea, and can't wait to get stuck into Book 2 (The Firebird) and Book 3 (The Vanished Days). Although it's a series, the books are standalone novels too. They don't have time travel as such, but The Winter Sea did swap between the present day and 18th century Scotland. Carrie McClelland is a historical novelist working on a novel set at Slains Castle in Scotland, but she begins to realise that her dreams and her fictional story are actually factual, she has the memories of an 18th century woman.
I found The Winter Sea beautifully written and I got completely lost in it.
Blurb:
History has all but forgotten...
In the spring of 1708, an invading Jacobite fleet of French and Scottish soldiers nearly succeeded in landing the exiled James Stewart in Scotland to reclaim his crown.
Now, Carrie McClelland hopes to turn that story into her next bestselling novel. Settling herself in the shadow of Slains Castle, she creates a heroine named for one of her own ancestors and starts to write.
But when she discovers her novel is more fact than fiction, Carrie wonders if she might be dealing with ancestral memory, making her the only living person who knows the truth—the ultimate betrayal—that happened all those years ago, and that knowledge comes very close to destroying her...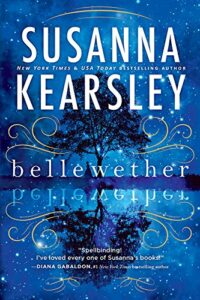 I've also read Kearsley's novel, Belleweather, set in 18th century US, and that was a fantastic read too.
Blurb:
Secrets aren't such easy things to keep: It's late summer in 1759, war is raging, and families are torn apart by divided loyalties and deadly secrets. In this complex and dangerous time, a young French-Canadian lieutenant is captured and billeted with a Long Island family, an unwilling and unwelcome guest.
As he begins to pitch in with the never-ending household tasks and farm chores, Jean-Philippe de Sabran finds himself drawn to Lydia, the daughter of the house. Slowly, Lydia Wilde discovers that Jean-Philippe is a true soldier and gentleman, until their lives become inextricably intertwined.
Legend has it that the forbidden love between Jean-Philippe and Lydia ended tragically, but centuries later, the clues they left behind reveal the true story.
Susanna Kearsley's books combine the magic of Deborah Harkness's All Souls Trilogy, the remarkable women of Lucinda Riley's Seven Sisters Series, and the intrigue of books by Simone St. James.
Part history, part romance, and all kinds of magic, Susanna Kearsley's latest masterpiece will draw you in and never let you go, even long after you've turned the last page.