In today's Claire Chats I talk about Christopher Marlowe, the Elizabethan poet and playwright, his life and the controversies surrounding him.
Here are two clips from the same scene of Doctor Faustus, but different productions. The first is a clip from a 2010 production of Doctor Faustus performed at Greenwich Theatre and the second is the film starring Richard Burton as Faustus and Elizabeth Taylor as Helen of Troy. It is the scene where Mephistopheles has conjured up Helen to distract Faustus from his thoughts of repentance and to persuade him to keep his pact with Lucifer.
Article "Who killed Christopher Marlowe" by Park Honan can be found at http://www.telegraph.co.uk/culture/3647398/Who-killed-Christopher-Marlowe.html
If you're an Oxford DNB subscriber, you can read Charles Nicholl's biography of Marlowe at http://oxforddnb.com/view/article/18079?docPos=1
Here is a portrait said to be of Marlowe. However, as Nicholl points out, the only things linking it to Marlowe are the sitter's age - the portrait is inscribed Anno Dni 1585 Aetatis sua[e] 21 and Marlowe would have been 21 in 1585 - and the fact that it was found at Corpus Christi, Cambridge, where, of course, Marlowe studied.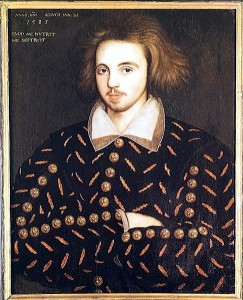 Further reading regarding the theories on Marlowe's death:
"New twist to Marlowe's murder riddle", The Guardian, 1st July 2001 - http://www.theguardian.com/uk/2001/jul/01/books.humanities
"Death in Deptford", Marlowe Society, http://www.marlowe-society.org/marlowe/life/deptford1.html
"Who killed Christopher Marlowe?", The New York Times, 1990, http://www.nytimes.com/1990/09/16/books/who-killed-christopher-marlowe.html?pagewanted=all
de Kalb, Eugénie (May 1925) "The Death of Marlowe", in The Times Literary Supplement
Tannenbaum, Samuel (1926) The Assassination of Christopher Marlowe, New York.
Breight, Curtis C. (1996) Surveillance, Militarism and Drama in the Elizabethan Era
Hammer, Paul E. J. (1996) "A Reckoning Reframed: the 'Murder' of Christopher Marlowe Revisited", in English Literary Renaissance, pp.225–242.
Trow, M. J. (2001) Who Killed Kit Marlowe? A contract to murder in Elizabethan England
Riggs, David (2004) The World of Christopher Marlowe
You can read more about the Marlovian Theory, Marlowe as Shakespeare, at http://www.marlowe-society.org/reading/links/linksmarlovian.html.