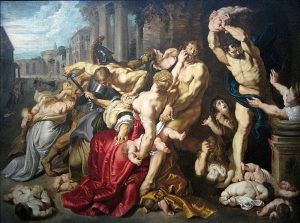 Childermas (Children's Mass) or Holy Innocents' Day was part of the Twelve Days of Christmas celebrated in the Tudor period and was celebrated on 28th December.
This feast day commemorates the massacre of the baby boys which King Herod ordered in Bethlehem, in an attempt to kill the infant Jesus Christ. The innocent babies were seen by the Catholic Church as the very first martyrs.
Read more on our Advent and Christmas page.
Picture: Massacre of the Innocents by Peter Paul Rubens.