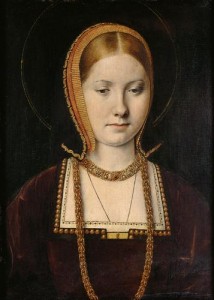 Thank you to Lynne for asking this question about Michael (Michel) Sittow's portrait of a woman said to be Catherine of Aragon. The portrait of Katherine of Aragon painted by Michael Sittow on her marriage to Arthur shows Katherine with a halo around her headdress, and I read that the halo was painted on at a later date. I always thought that it was part of Katherine's headdress, am I wrong?"
The painting by Michael Sittow, shown here, is beautiful. We don't actually know for certain who it is and there has been controversy surrounding it in recent years because the Kunsthistorisches Museum in Vienna relabelled the portrait as being of Mary Tudor, sister of Henry VIII, based on "Henry VIII's Favourite Sister? Michel Sittow's Portrait of a Lady in Vienna", an article by Paul G. Matthews. You can read more about this in Katherine of Aragon or Mary Tudor? – The Re-identification of Michel Sittow's Portrait of a Young Woman by Nasim Tadghighi. For me, it makes more sense that it is Catherine.
Susie Nash, senior lecturer in Northern Renaissance Art at the Courtauld Institute of Art in London, author of Northern Renaissance Art believes it to be Catherine and writes that it was "probably painted when the artist was sent to England by his patron [Isabella of Castile] for that purpose". She also quotes Catherine of Aragon talking about Sittow's skills as a portrait painter on seeing some paintings of Margaret of Austria: "they would have been painted better, more surely and perfectly by Michel [Sittow]."
But let's consider the "halo"...
The painting is very dark and it is hard to see the hood, but if you look at a large image of the portrait (see below), you can see the veil of the hood hanging down and the halo starting and ending behind it. Susie Nash writes that the dark background and the halo that we see are later additions to the painting. Mojmír Frinta, in her article "Observation on Michel Sittow", disagrees, writing that "a laboratory examination of the simply traced halo, marked by two concentric circles shows that it was part of the original painting". Frinta is not keen to identify the portrait's sitter as either Catherine or Mary, pondering whether "an alternative and viable proposal" is that it is of "a patrician's daughter in Reval" - see her article on JSTOR for more on this.
It appears that experts in art history believe it to be a halo, rather than being part of the hood, but do not agree on when the halo was painted or even who the woman with the halo is.
If you can access the JSTOR article then it does make for very interesting reading.
Notes and Sources