Maggie is next on our list full of amazing artists! She is based in Dorset in the UK where she makes the most beautiful hand-painted boxes.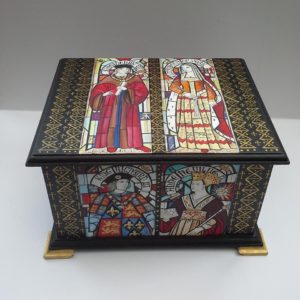 Box with hand-painted portraits of King Henry VII (top left), Elizabeth of York (top right), King Richard III (bottom left) and Anne Neville (bottom right)
When did you start making hand-painted boxes?
"I have always sketched and painted mostly with pencil and water colour, but I changed to acrylic, painting castles and local country scenes on boards. I exhibited and sold my work at local art events and galleries, by commission and at an exhibition in Glen Vegh Castle in Ireland. I started painting on boxes in 2011."
Where does your interest in the Tudors come from? When did that start?
"My interest in the Tudors comes from many visits to art galleries, cathedrals and castles as a child and reading a lot of history books. The Tudor Portraits in The National Portrait Gallery in London were an inspiration to me."
What inspired you to make hand-painted boxes related to the Tudors?
"One of my sons encouraged me to paint Henry VIII on a box, and I soon started painting more and more historical characters on boxes. I had requests and commissions for all kinds of celebration gifts, which inspired me to specialise in Keepsake Boxes."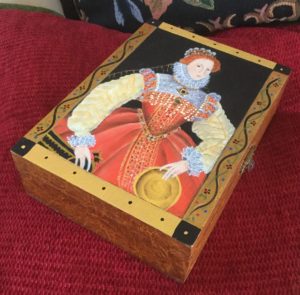 Box with hand-painted portrait of Queen Elizabeth I
Do you have a favourite Tudor monarch? Who and why?
"I don't really have a favourite Tudor monarch, but I am intrigued by Catherine Parr who appears to have been a calming influence on her 3rd husband Henry VIII and his daughters and although she had longed to marry Sir Thomas Seymour, when she did and became pregnant, her life ended sadly with the birth of her daughter."
What is your favourite box that you have made?
"One of my favourite Tudor paintings is a Queen Elizabeth I, which I painted on to a key box for one of my regular purchasers, but I change my mind about favourites quite often!"
How long does it take you to make your hand-painted boxes?
"It can take between 2-3 weeks for a large project, a small one can take 3-5 days due to layering paint, drying and varnishing."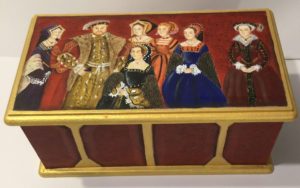 Box with hand-painted portraits of Henry VIII and his six wives
How do you make your hand-painted boxes? What is the process?
"I research the character and choose an appropriate box. Box availability has been tricky during the pandemic as many suppliers have closed. I let the purchaser know which boxes I have available and would suit the character they want painted on it. I plan out a rough sketch on paper for extra detail. I find inspiration as I go along, sometimes changing my original plan entirely. I use many layers of paint in different colours drying each layer in between. Sometimes I let the natural grain of the wood or the roughness of the wood show through. I use non rain forest wood. When the painting is complete, I send a photo to the purchaser and then varnish to protect the work. If I use a high gloss varnish, it takes 3-4 days to dry. Other varnish with less shine takes a day. The high gloss is very popular, but personally I prefer matt varnish. All my boxes are signed and are a 'one of' for the owner. I change details slightly when painting the same character for someone to keep the originality for the purchaser."
Are you currently working on anything related to the Tudors?
"I am currently working on Anne Boleyn, who is one of the most popular Tudors after Queen Elizabeth I and Henry VIII. My boxes were sold at The Grenville Room shop in The British Museum London, Once again Queen Elizabeth I and Henry VIII being the most popular."
Want to see more of Maggie's gorgeous hand-painted boxes? You can follow her on Facebook.
If you are interested in buying her art, you can go to her Etsy shop or send her an email.
More artists in the spotlight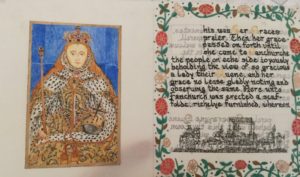 Click here to read about and see Roland's beautiful portrait miniatures and coronation books.