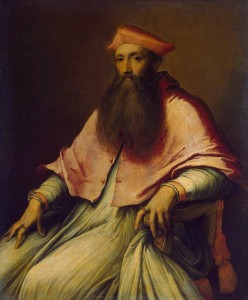 On this day in Tudor history, 9th April 1557, Cardinal Reginald Pole's legatine powers were revoked by Pope Paul IV.
Pole, who was also Mary I's Archbishop of Canterbury, had served as legate a latere to England from March 1554 until the pope deprived him of this power on 9th April 1557.
Pole had a bit of a history with Pope Paul IV.
Back in 1549, following the death of Pope Paul III, Pole was a frontrunner to become pope at the papal conclave. However, one factor which prevented his election was Cardinal Gianpetro Carafa denouncing him as a heretic. Pope Julius III was elected instead. When Julius died in 1555, Cardinal Gianpetro Carafa was elected and became Pope Paul IV. Lambeth Palace Library's guide to Cardinal Pole explains: "At first relations between the two men were cordial; but on 9 April 1557, motivated partly by political considerations and partly by mounting charges of heresy against Pole, the Pope revoked the legatine powers of his English archbishop and recalled him to Rome. In the event, however, Pole contracted his final illness before he could be reclaimed by the Inquisition."
Although it was his earlier works, his Catholic humanism, and his belief in justification by faith, that had provoked the first accusations of heresy, Pole's downfall with the papacy in 1557 seems to have been down to his close relationship with Mary I, who was supporting her husband, Philip of Spain, in his conflicts with the papacy. The final straw for the pope was Philip's arrival in England in March 1557. In December 1557, the pope sent his nephew Carlo Carafa to King Philip to convince him of Pole's guilt, but Mary I refused to let her archbishop leave England to travel to Rome to face the charges.
Pole died of influenza on 17th November 1558, the very same day that the queen died.
Also on this day in Tudor history...