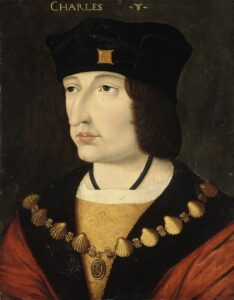 On this day in Tudor history, 7th April 1498, King Henry VII's contemporary, King Charles VIII of France, died.
Charles the Affable, as he was known, died after hitting his head on a lintel at the Chateau d'Amboise while on his way to watch a tennis match. He made it to the match, but after the game, he was taken ill, slipped into a coma and died. He'd been king since 1483.
Charles died without issue, so he was succeeded by thirty-five-year-old Louis of Orléans, who was his second cousin once removed and the husband of Charles's sister, Joan. Following his accession, Louis XII had his childless marriage to Joan annulled by the pope and married Charles's widow, Anne, Duchess of Brittany. The couple went on to have two surviving daughters, Claude, who'd become Queen Claude as queen consort of Francis I, and Renée, Duchess of Ferrara.
Anne died in January 1514 and in October 1514, fifty-two-year-old Louis married 18-year-old Mary Tudor, sister of King Henry VIII. Unfortunately, the marriage lasted under three months as Louis died on 1st January 1515. As Louis had no surviving legitimate sons, his throne passed to his son-in-law, Francis of Angoulême, who was also his first cousin once removed. Louis' widow went on to secretly marry Charles Brandon, Duke of Suffolk, her brother's best friend.
Also on this day in Tudor history...